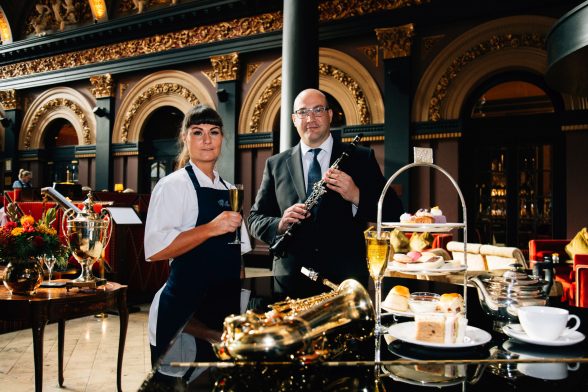 SOUND OF MUSIC… After months of planning, The Merchant Hotel's Sarah Jade Jamison, head pastry chef, and Mauro Zanza, restaurant manager, The Great Room Restaurant, celebrate the launch of The Merchant Hotel's unmissable 'Musical Afternoon Tea' sessions which will take place every Saturday in November. 
Guests are invited to indulge in a luxurious afternoon tea of melt-in-the-mouth patisseries, homemade scones, sandwiches and a glass of champagne while enjoying the sound of live music in the iconic Great Room Restaurant.
The special menu will include some of the 5-star hotel's latest patisserie creations, including fresh lemon tart with raspberry jelly, created using locally sourced raspberries, blueberry mouse made with Italian meringue and an intricate chocolate and coconut sphere dessert.
Performances include, 'American Song Book' with the Rodney Foster Trio on November 3, 'Classical and Broadway Hits' with the Ireland String Quartet and Belfast born award-winning theatrical and opera singer Ceara Grehan on November 10, 'New Orleans Jazz' with the Trevor Foster Band on November 17 and 'Swing Jazz' with the Rodney Foster Trio on November 24.
Tickets are priced: £33 per person.
To book call The Merchant Hotel on 028 9023 4888 or visit