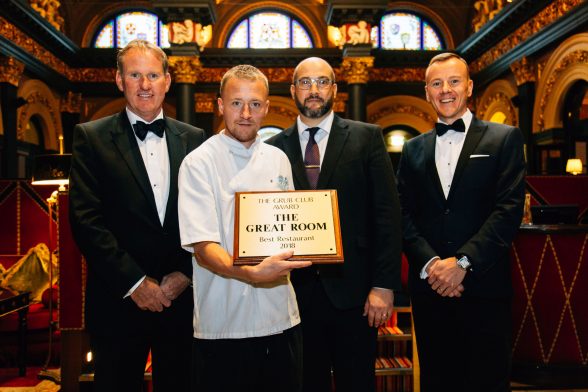 BELFAST'S 5-star Merchant Hotel is celebrating once again, adding another prestigious award to its burgeoning trophy cabinet.
The Great Room Restaurant has been named 'Grub Club Restaurant of The Year' for 2017/18 .
Established over 40 years ago, the Grub Club is an exclusive private dining club, which scours the whole of Northern Ireland to find the very best restaurants that the region has to offer.
With strict criteria to select its winner based on the excellent calibre, integrity and innovation of its entire food, beverage and service offering, the Grub Club celebrates culinary excellence at its best.
Past winners have included Deane's, Shanks, Roscoff, James Street South and The Old School House.
This is the second time The Merchant's Great Room Restaurant has received the prestigious honour.
Pictured L-R: Stephen Warke, president of the Grub Club; John Paul Leake, executive Chef, The Merchant Hotel; Mauro Zanza, restaurant manager, The Great Room Restaurant; Glenn Branney from the Grub Club.