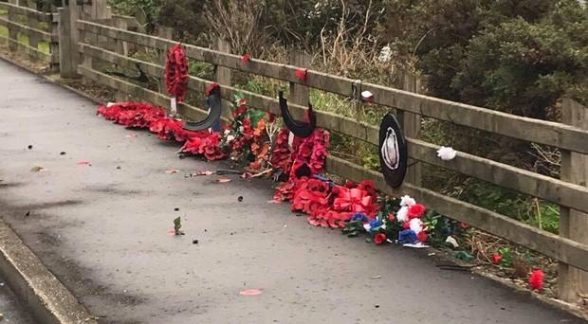 THE CHAIRMAN of Cliftonville Football Club has condemned an attack on a memorial to soldiers killed by the IRA almost four decades ago as "pathetic".
Gerard Lawlor said in a statement that those involved had no official affiliation with the north Belfast club.
And he has appealed for anyone with information about those behind the attack on Saturday to contact police.
The wreaths at Narrow Water commemorate 18 soldiers killed in two IRA bomb blasts on August 27, 1979.
The wreaths were ripped apart at the scene following the Reds game at Warrenpoint Town.
On social media, many blamed football supporters returning from a game for the incident.
In a statement, Cliftonville FC said it had been made aware of an incident that occurred at Narrow Water and "allegations of involvement from persons returning from our fixture in Warrenpoint".
Reds Chairman Gerard Lawlor stated: "I totally condemn any act of desecration. We live in a sad society where anyone would get a kick out of desecrating a memorial.
"If anyone connected with our club has any information about the incident then they should report it to the PSNI. This pathetic act isn't in my name nor that of Cliftonville Football Club.
"The Club understands that the matter is now under PSNI investigation and that those involved are not in an affiliated supporters group or Supporters Club."
Cliftonville FC will provide its full cooperation in the investigation of this matter.
There has been widespread anger over the attack.
Sinn Fein South Down MLA Sinead Ennis condemned the vandalism.
"This is the second time in recent months that the wreaths at Narrow Water in Warrenpoint have been vandalised.
"There is no place for attacks like in our society and I condemn this act outright.
"Monuments and memorials are important places in communities and should be respected.
"I would encourage anyone with information on this incident to contact the PSNI."
Each year the anniversary of the event is marked at the site by members of the local community and family members of those killed in the attack.
It has been targeted numerous times over the years, including in May 2017 when wreaths and crosses at the site were desecrated.
Police at Ardmore PSNI in Newry have appealed for anyone with information about those behind the attack to contact officers on the 101 number.