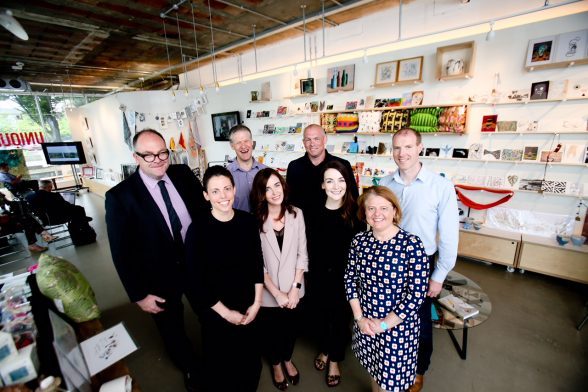 BUILD Peace, the international conference which takes place at the end of October in Belfast is expected to generate over £345,000 for the local economy, according to Visit Belfast – the official tourism marketing agency for the Belfast City Region.
The conference, which took place in Bogota in Colombia in 2017 will see over 300 international and local delegates descend on the city for the 3-day summit. 900 bed nights are also expected to be taken up in local hotels during that time.
Taking place from 29-31 October, at the Ulster University Belfast campus, the conference brings together practitioners, activists, academics, policy makers, artists and technologists from across the world to share experience and ideas on using technology, arts and other innovations for peacebuilding and conflict transformation.
This is the first time that the conference has been held in the UK and it will cover three key themes including creativity and reconciliation, inclusion and social cohesion and sustainability and resilience.
Across the three days there will be a series of short talks, dialogues, workshops and interactive exhibitions.
This is the fifth conference in the Build Peace series which started out at MIT in Boston (2014), Cyprus (2015), Zurich (2016) before it went to Colombia in South America last year with Belfast secured as the location for the 2018 conference.
Gerry Lennon, CEO of Visit Belfast said:
 "Build Peace is an exciting conference for Belfast and it is fantastic that the city has been selected to deliver the 2018 summit, out of all the cities around the world which competed to secure it.
"It has already been to the likes of Boston and Bogota and it is a real vote of confidence that Belfast will be added to that prestigious list."
"With 300 delegates due to attend, it will add a real boost to the economy with over £345,000 expected to be spent and over 900 bed nights taken up in local hotels during the three days it takes place."
 Tina McKenzie, CEO of Grafton Recruitment, said:
"Bringing an international conference of this scale to Belfast will provide a significant boost to the local economy.
"Attracting a conference of this renown also demonstrates the transformative impact peace has had on Northern Ireland's business community – generating investment, creating jobs and bringing greater prosperity to a larger number of people."
 "Grafton Recruitment is excited to 'Re-Imagine Prosperity' during the Build Peace Conference, exploring how further innovations in technology and increased creative thinking can help to reshape employment and positively impact the future of work across Northern Ireland."
Eva Grosman, CEO of the Centre for Democracy and Peace Building added:
"We are thrilled that Build Peace will take place in Ulster University's Belfast campus this October.
"It is now time for Northern Ireland to showcase some remarkable projects, to learn and exchange ideas with colleagues from across the globe and to explore how technology, innovation and creativity can re-shape the economic opportunities, economic organisation and economic power that impact how we live together in peace.
"We are truly grateful for the support from Ulster University and Visit Belfast in securing this significant conference coming to Belfast this year.
"We also have to thank key sponsors such as Grafton Recruitment who have helped make it possible to plan such an internationally renowned summit."