PSNI Chief Constable George Hamilton has launched a broadside against some Westminster politicians accusing them of of failing to understand the dangers of terrorism in Northern Ireland post Brexit next year.
Mr Hamilton has that the government is failing to prepare for the impact of the UK leaving the EU on the peace and security in NI.
In an interview with The Sunday Times, he said that he is not getting the information and clarity needed.
Mr Hamilton said that some Westminster politicians view NI as "peripheral".
"There's a feeling that as regards the Troubles and the conflict, Northern Ireland is sorted and we don't need to worry about it, when actually we're working flat out 24/7 to keep a lid on it," he said.
Mr Hamilton issued a similar warning when he appeared before the Northern Ireland Affairs Committee in June.
The Chief Constable said that any physical infrastructure or border officials following the UK's withdrawal from the European Union would become targets for dissident republicans and require police protection.
"The purpose for which those checking points and [Irish] border controls would be put in place would become less and less relevant because they would move away from issues of trade or movement of people to old-fashioned security on a national frontier," he said.
"That was done during the period of the Troubles rather unsuccessfully, and was sadly the subject of attacks and many lives lost."
Asked if the government understood Brexit's potential consequences for Northern Ireland, Mr Hamilton said: "I'm not sure all of them do.
"I have a concern some may see issues to do with the Irish border as literally peripheral, not just geographically but in terms of impact."
Cross-border smuggling — already rife over fuel, alcohol and tobacco — would escalate as prices and tax rates diverged, he said.
"We can make the sensible assumption that violent dissident Republican groupings and organised criminals will seek to exploit that.
"It's already tricky enough policing that high-threat border."
Renewed focus on a border rendered invisible by the 1998 Good Friday Agreement would also stoke tensions between Northern Ireland's two communities.
"It doesn't take too much to make people insecure in their identity and constitutional position," said Hamilton, who recalled how a dispute over flying the Union flag above Belfast city hall led to months of street protests in 2013.
For at least a year the PSNI has pressed the British government for more resources to counter these "reasonable assumptions" about Brexit's impact.
Specifically, it wants more than 400 extra officers, including 100 by the end of March, as well as extra vehicles and equipment.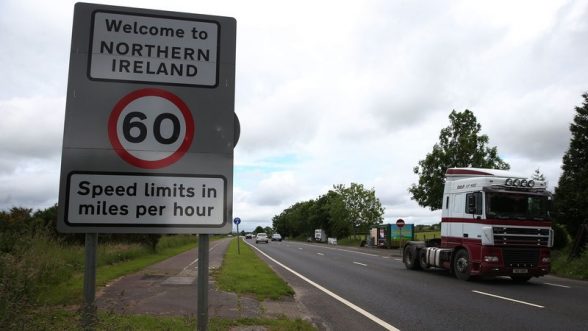 It has suspended the sale of three disused police stations along the highly porous 310-mile border.
Revenue and customs and the UK Border Force have received thousands of new officers to handle Brexit but the PSNI has yet to receive an answer to its series of increasingly detailed requests for more resources.
Until last month it lacked even a designated interlocutor in Whitehall. One source described the process as "wading through treacle".
As an example of how some Westminster politicians don't understand what will happen along the border post Brexit, Mr Hamilton  suggested the government might consider smuggling to be "small beer", but said: "It's actually the lifeblood for organised crime and terrorism and has a massive impact on local communities and legitimate small businesses and the fabric of society."