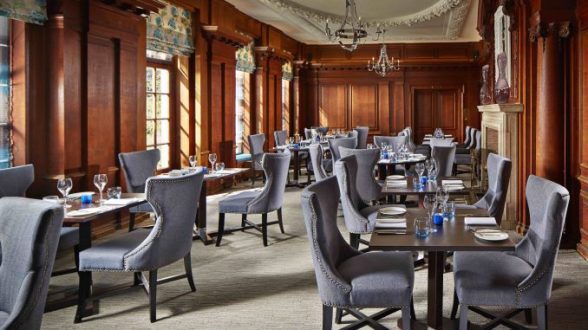 BY TIM HEDGLEY, GROUP TRAVEL EDITOR
A luxury four-star hotel is set to officially unveil a new look this September, as it celebrates the completion of an extensive two-year renovation, which has transformed it from a conference venue into an indulgent getaway and luxury wedding venue. 
Barnett Hill is a historic Queen-Anne style country house, dating back to 1905.
The elegant mansion, set within 26 acres of lovingly maintained gardens and woodland, is now a luxury four-star boutique hotel offering award-winning dining and breath-taking views of the Surrey Hills Area of Outstanding Natural Beauty.
Situated in a peaceful rural setting just 30 minutes from London, Barnett Hill is the ideal destination for weddings, corporate events and romantic getaways.
Barnett Hill was purchased by the Alexander Hotels group in September 2016. Alexander Hotels now consists of Alexander House, Langshott Manor, Rowhill Grange and Barnett Hill.
Starting life as a single spa with a few bedrooms, Alexander Hotels is now a collection of luxurious hotels in Sussex, Surrey and Kent.
Barnett Hill, situated on the edge of the Surrey Hills, has been undergoing the improvements since September 2016, having been purchased by Alexander Hotels – a hotel group that owns a collection of luxury venues.
Peter Hinchcliffe, co-owner of Barnett Hill, said of the launch event: "A huge amount of effort has gone into this renovation, so we're delighted to be able to raise a glass to celebrate a job well done! Previously, the venue was somewhat conferenced focused, but this has now been transformed to focus on weddings and relaxed, luxury breaks."
He continued: 'Barnett Hill really is a magnificent building, so we're delighted to be able to finally do it justice with the new refurbishment, transforming it into the luxury escape that it deserves to be."
The beautiful Queen Anne-style country house was built in the 1900s by Frank Cook, the grandson of the renowned travel agent, Thomas Cook.
During WW2, the property was loaned to the British Red Cross as a hospital, becoming a rehabilitation centre for the injured. In the years following, the British Red Cross opened the house to the public until it was eventually turned into a hotel.
Peter Hinchcliffe concluded: "The event is the culmination of two-years of hard work, so we're very much looking forward to it. Uptake has proven popular so far, however we do still have a few spaces left for those looking to join us, so we'd urge those interested to be quick if they'd like to guarantee a space!"
For more information about Barnett Hill, please visit www.barnetthillhotel.co.uk
Luxury Storrs Hall to launch special Autumn Boathouse experience
If staying at a hotel once adored by the great William Wordsworth and Beatrix Potter wasn't enough, a picturesque Lake District retreat is laying on even more luxury.
Storrs Hall, on the shores of Lake Windermere, wants as many holidaymakers as possible to experience the romanticism that long ago moved many great wordsmiths.
Storrs Hall was first established as a hotel in 1890. In the 1920s and 1930s, many guests arrived on the steam trains at the L.M.S. terminus at Windermere, including many American tourists carried on to the Hotel in charabancs by American Express.
North British Trust Hotels, who bought the Hotel in 1943, introduced more spectacular features such as the main bar bought from Blackpool's Winter Gardens. Storrs Hall was bought in 1997 by Les Hindle, a Lancashire businessman, who used his talents to carry out a sympathetic restoration.
As part of their Autumn Boathouse experience, guests will stay at the Hall's luxury boathouse replete with private steam room, outdoor Jacuzzi and gorgeous countryside vistas.
Guests can either enjoy luxury meals on their hidden terrace or in the hotel restaurant, and after dinner toasts to a day well spent can be savoured in the hotel's Tower Bar or next to their own fire-pit.
The Boathouse experience also offers an hour-and-a-half private cruise on the inspiring waters of Lake Windermere – taking in the best views of the lake, its eighteen islands and surrounding countryside.
Andy Nicholson, Storrs Hall General Manager, said: "Set in woodland on the shoreline of Windermere, Storrs Hall's luxury Boathouse provides a wonderful hideaway. The combination of idyllic Lake District location and uniquely romantic property will take our guests' breath away.
"Bespoke, modern contemporary fittings and furniture offer a level of comfort that simply envelopes you. Immerse yourself in the stunning views of Lake Windermere and surrounding Lake District fells."
He added: "You will be collected from the jetty at Storrs Hall and taken on a one and half hour private cruise of Windermere in a skippered luxury motor cruiser. This is a truly unique way to enjoy the beauty of the lake."
Lake Windermere's magnificent stretch of glittering water, its stunning bays and small islands stirred some of the English language's lyrical masters.
Lakeland poets William Wordsworth and Robert Southey were among the guests in the Hall's heyday of private ownership and found inspiration among the tranquillity of its pavilion and lawns.
Wordsworth even recited his famous Daffodils in the Storrs Hall Drawing Room, while Beatrix Potter, famed for The Tale of Peter Rabbit, attended many splendid parties there.
Now guests are treated to the same tranquillity – with large luxury rooms and fine dining throughout.
A full video of Storrs Hall's offerings can be viewed at: https://vimeo.com/286493504
The bed and breakfast Stay & Cruise package costs £750. The dinner, bed and breakfast Stay & Cruise package costs £850.
Storrs Hall, Bowness-on-Windermere,
Cumbria, LA23 3LG, UK
Tel. 01539 447111
Email. reception@storrshall.com