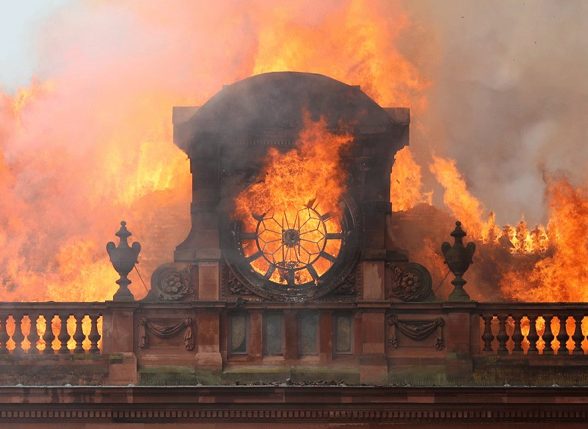 A SENIOR police officer has told the BBC that the Primark building in Belfast is "at risk of imminent collapse".
A fire broke out in the five-storey listed Bank Buildings at about 11 am on Tuesday.
It was undergoing a £30 million extension and renovation at the time.
About 100 firefighters are at the scene and the fire has spread to the ground floor, with ceilings giving way.
Smoke and ash from the blaze has been polluting nearby areas such as Rosemary Street, Lombard Street and lower North Street.
People walking home from work this evening were covering their mouths with hands and scarfs.
There are no reports of any injuries but the fire service has advised people to avoid Castle Street and Royal Avenue.
The fire service said it expected to be at the scene into the evening.
Clothing giant Primark confirmed in a tweet that the building was safely evacuated.
Royal Avenue has been cordoned off and pieces of debris fell from the side of the historic building.
Rajesh Rana, president of Belfast Chamber of Trade and Commerce said he was sorry to hear about the fire.
"It is a sad day for Belfast and for one of our city's leading retailers, which was in the midst of completing a £30m expansion project," he said.