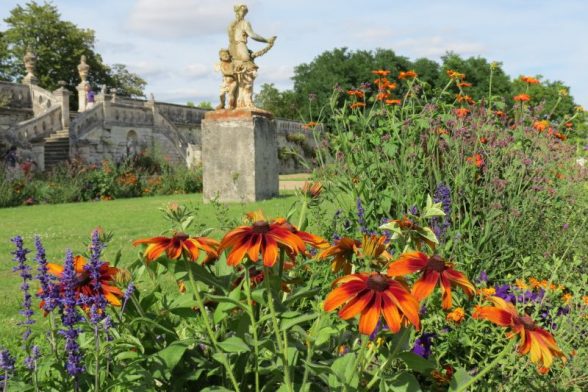 BY TIM HEDGLEY, GROUP TRAVEL EDITOR
OUR good friends at European Waterways have put together a refreshing article on beautiful gardens and waterfalls in Europe.
If you are off on your holidays maybe you would want to check out a couple?
From dramatic waterfalls in the heart of Paris (yes, they exist!), to candlelit mazes attached to historic châteaux at the height of summer, we've compiled a list of the quirky, beautiful, one of a kind gardens that are among the best in Europe.
Château de Villandry, France
When to go: 6th/7th July & 3rd/4th August for Nuits des Mille Feux
Just to be clear, the Château de Villandry is open, and wonderful, all year round, and a number of our barges make a weekly visit because we love it so much. However, one of our favourite times it has to be said is for the Nuits des Mille Feux (The Night of a Thousand Lights) in which the gardens are open at night, illuminated by 2000 candles, light shows and magnificent firework displays. The evening has the atmosphere of a festival and is a true treat for the romantic in you.
Widmann Borletti, Italy
When to go: May
In the shadow of a beautiful 17th century villa sit the medieval monastery gardens. Exploding with colour and fine sculptures, to stroll amongst them with a glass of the delicious wine that the Dominio di Bagnoli is renowned for, is to indulge in la dolce vita. There are some forty, exquisitely carved 18th century statues, said to represent the signs of the zodiac and the Gods of Olympus, which makes sense given the heavenly surroundings.
Parc des Buttes- Chaumont, Paris
When to go:  Early to Mid-June
Set high up in Belleville the Parc des Buttes-Chaumont is one of the largest, yet lesser known spaces in Paris. For those who want to relax, it is an utterly joyous spot to take in a view of the city below, with a glass of wine in hand from either Rosa Bonheur or the Pavillion Puebla. For the more active amongst you, the park is actually built on an old quarry which means with its changes in gradient come caves, as well as waterfalls, and even a suspended bridge – not your usual touristic fare in Paris!
Keukenhof, Holland
When to go: 21st March to 19th May
With over 7 million bulbs in bloom and 32 hectares of flowers of all varieties and colours this is quite possibly one of the best natural wonders of the world. In addition to the obvious there are numerous live events, unique art installations and even a playground, maze and petting zoo to keep the children occupied! Each year Keukenhof likes to embody a particular theme, 2019's theme is Flower Power.
Giverny, France
When to go: May
The garden that inspired the genius of Claude Monet is still a serene and surreal spot to take a stroll around. In fact the pond that he had constructed was based upon the prints of Japanese gardens that he collected, making this delightful spot a living, breathing piece of French and Japanese Art History. All art related connotations aside, it is one of the most peaceful and picturesque spots we've visited and would be just as enjoyable for avid horticulturists or those looking for a little inspiration of their own.