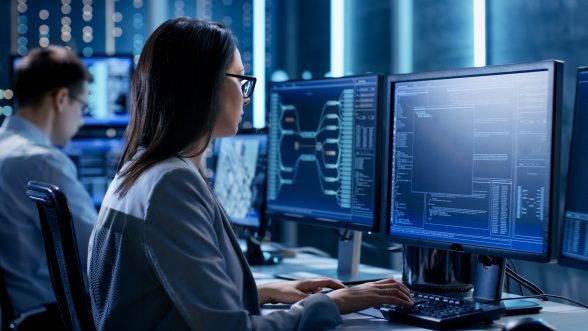 RECRUITMENT and continued inward investment in a number of key skilled sectors indicates a robust performance for the local labour market, according to the latest NIJobs.com Jobs Report with Ulster Bank.
Companies continue to invest heavily in employment with NIJobs.com reporting that job listings up five percent on the quarter and 11 percent on the year.
The latest quarterly reports, which tracks jobs advertised online, also reveals that overall job listings have hit an all-time high and have risen by almost a quarter in the last three years further bolstering the latest official labour statistics.
Sam McIlveen GM of NIJobs.com says; "This report is a good indicator of recruitment trends across NI.
"In June we had over 1000 corporate jobs advertised on our site.
"This milestone not only reveals the buoyancy of the current job market but also reflects our investment in recruitment technology which has enabled us to consistently deliver quality candidates to companies of all sizes across Northern Ireland."
"IT continues to experience sustained growth with increases QoQ of 20% and 43% YoY respectively. Global businesses such as Allstate, Capita and Cayan are recruiting heavily right now with the support of NIJobs.com. While in terms of jobs, Software Developers and Software Engineers are particularly in demand right now."
Mr McIlveen added: "The success of the IT sector is due in part to the sterling efforts of Invest NI selling Northern Ireland as a viable opportunity for business growth.
"While we have the jobs, the challenge now is to ensure we can provide recruiters with talented candidates to fill them.
"Attracting homegrown graduates to return here remains a concern for these specialised roles- only one-third return after attending university elsewhere in the UK.
"While NIJobs.com can help recruiters source professionals outside of NI if required, it is essential that local government steps up alongside other Statutory agencies and invests in a long-term strategy to tackle this issue.
"Other top performers this quarter include Engineering (YoY 18%), Production Manufacturing and materials (YoY 19%), banking & Finance (YoY 25%) and Social & Not for Profit (YoY 63%) Belfast and Derry/ Londonderry have also performed well YoY, which again supports an increase in long-term investment in both hubs."
The NIJobs.com Jobs Report with Ulster Bank analyses and interprets data with Ulster Bank's Chief Economist Richard Ramsey.
It is a timely indicator offering important insight about recruitment trends, the types of jobs people are looking for and the roles companies are keen to recruit here.
Ulster Bank's Chief Economist Richard Ramsey believes Northern Ireland's jobs machine has been firing on all cylinders and it appears that there has been no let-up in the second quarter of 2018:
"The incoming labour market statistics continue to chalk up record highs and positive lows in a variety of areas. Unemployment hit a record low in the first quarter of the year, according to the official figures, more people are working, in some shape or form, than ever before and our Q2 results further underline this.
"The NIJobs figures are positive news for the economy, indicating a broad-based demand for labour with eight categories posting their highest number of quarterly vacancies to date.
"High numbers of IT vacancies are no surprise given the range of big announcements from both indigenous companies and inward investors expanding their presence in Northern Ireland.
"Similarly, manufacturing and engineering firms are capitalising on strong global demand as they export with gusto and are having to expand their workforces as a result.
"However, whilst the figures highlight the positive aspect of Northern Ireland's labour market at present, they also allude to some of the significant challenges, notably skills shortages.
"The reality is that a job listing doesn't necessarily mean a new job created and we know that there is a significant amount of churn in some sectors, particularly the IT industry, due to the intense competition for talent.
"There is no doubt that the sector is set for a sustained period of robust jobs growth, but companies will have their work cut out finding and retaining the skills."
"As the jobs machine churns out new openings, we also need a conveyor belt of skilled graduates and non-graduates to ensure supply meets the demand.
"Other sectors such as hospitality and food processing have intense skills challenges as well; issues that are being compounded by a reduction in the availability of workers from the EU.
Key highlights Q2
IT remains the sector advertising the most vacancies
Eight of the 32 employment categories hit record highs
Overall listings hit an all-time high, and have risen by almost one-quarter in three years.
Over 1 in 9 of all job listings are in IT.
The top five categories account for 40% of all listings
IT, Engineering and Accountancy and Finance still dominate the listings, accounting for over one-in-four of all jobs