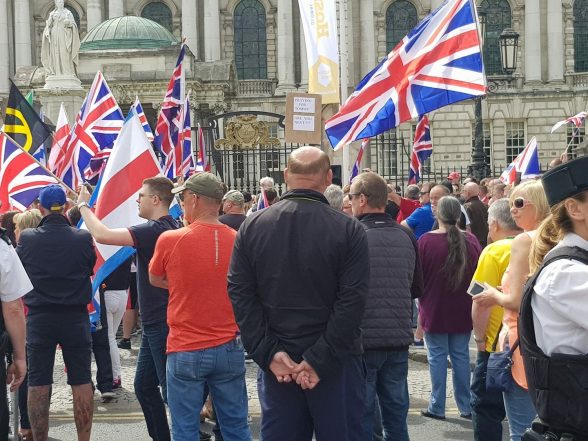 SMOKE moke bombs were thrown and police in riot gear were called in to divide two groups of protesters outside Belfast City Hall today, Saturday, June 23.
Several hundred people attended an anti-racism demonstration, while a smaller group were at a UK Freedom March protest.
Smoke bombs were thrown during the lunchtime rallies. Protesters kicked the devices away.
The police said that there were no arrests.
One of the UK Freedom March posters was in support of Tommy Robinson.
He is a former member of the English Defence League who is serving a prison sentence for contempt of court, after live streaming on social media outside an ongoing trial in Leeds.
People Before Profit MLA Gerry Carroll, who was with the United Against Racism demonstrators, said people in Belfast "have a proud tradition and history of taking a stand against racism".
"Today is a continuation of that legacy… we want to say that Muslims, refugees, migrants, are welcome here. We stand in solidarity with people who are being targeted by fascist and racist organisations."
He said: "There was a flare from somewhere. I don't know where it came from to be honest with you, but obviously our intentions here, and what we have displayed here, is a clearly a peaceful protest, a dignified protest in the face of people who are trying to whip up racism and fear."
Jolene Bunting, an independent unionist councillor in Belfast, held up the remains of a device, which she claimed had been thrown at protesters on the Freedom UK March.
"When we got here we had smoke bombs thrown at us and fireworks going off," she said.
"It is not acceptable for people to say that a small crowd of people wanting to voice their opinion on Brexit are fascists while they are the ones who attacked us."
The Northern Ireland Parade's Commission said they only received three days notice of the UK Freedom March. The law requires 28 days notification.
Asked about the Parades Commission raising concerns about the late application for the march, Ms Bunting said "there was a mix-up with the paperwork".
Dr Raied Al-Wazzan, from the Belfast Islamic Centre, said that "unfortunately hate crime is rising, but the vast majority of people here are welcoming foreigners and other communities".