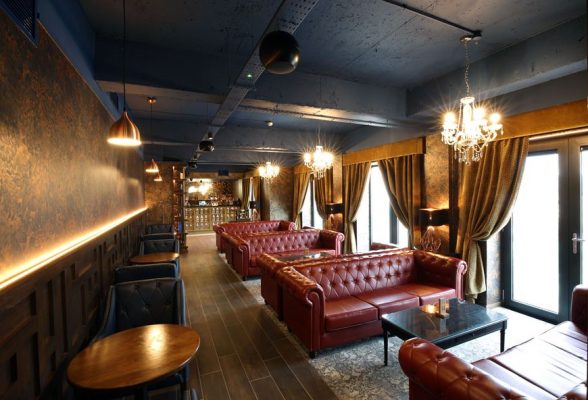 BY TIM HEDGLEY, GROUP TRAVEL EDITOR
There are many ways of celebrating a hen night, and to be honest lots of ladies go abroad. Popular spots are Magaluf, Dublin, Faro, Marbella or even further afield.
With rising flight costs, insurance and accommodation prices quite a few people seem to want to stay at home. So, I had a quick look at accommodation in Northern Ireland and I came across a very clever idea.
Ten Square hotel in Belfast has transformed itself over the last couple of years and now it is one of the most fashionable places to stay in Belfast City centre.
This stunning hotel now boasts 131 guestrooms in the heart of the city.
With 3 styles of guestroom accommodation, including the contemporary, chic Standard rooms, the deluxe offering of their reimagined rooms in the original 19th century linen warehouse, to the brand new executive guestroom accommodation.
Many of their wonderful rooms offer impressive views of Belfast city centre and the hills beyond. The hotel also offers a selection of premium suites ranging from luxurious junior suites, a 'group suite' for up to ten persons inclusive of a rooftop hot-tub and terrace, to the ultimate in comfort and style, by way of the Jaffe Penthouse.
The Jaffe Penthouse offers unrivalled luxury accommodation in the heart of the city, with chic, contemporary furnishings and an extensive roof top terrace, perched high above Belfast city hall. The deserving guests have a luxury retreat, in the heart of the city with commanding views of the Belfast skyline.
The newly presented rooms are complemented with the refurbished Jospers Restaurant and Linen Bar on the ground floor, both of which are thriving social hubs for city dwellers and tourists alike.
For those seeking calm and tranquillity in the heart of the city, the newly opened rooftop bar, The Loft is the ideal retreat.
Formerly the Yorkshire House it was built in 1862, and pre-dates the opening of Belfast City Hall in 1906, thus making it the same vintage as the Ulster Hall in Bedford Street.
It has three storeys and nine bay frontages which overlook both Donegall Square and Linenhall Street. The building's exterior features wonderfully carved portholes, featuring the famous & historical reliefs of George Washington, Isaac Newton, Michelangelo and William Shakespeare amongst others.  Yes just look up when you walk past !
The hotel stands on the ground of what was once a row of Georgian houses where the famous physician, poet, educationalist Dr. William Drennan lived in the early 1800s (whose sister had already founded the Maternity Hospital on the city square several years before, and which was the forerunner of the current Royal Maternity Hospital).
The structure existed for many years as a Victorian linen warehouse and also served as the General Post Office for a period of time. Fast forward many years, Yorkshire House's current incarnation as Ten Square Hotel began at the turn of the millennium.

So as you can see Ten Square is without doubt the place to be, so where better to have a quality boutique "Hen"
Ten Square can offer a wide and varied selection of Hen packages, catering for any size of party from 8 ladies upwards, or they can "mix'n'match" to create your very own bespoke Hen experience.
Residential packages are of course on offer too, with overnight stays available to make the party last even longer!
To find out more, contact their specialised Events Team at events@tensquare.co.uk.
The "Vegas" suite is Ten Squares state-of-the-art group room which can sleep up to 10 people. It is ideally suited to a Hen night and that's just what a number of ladies did recently.
The ladies checked into their chic accommodation and deposited their overnight bags. They had booked the bubbles on arrival package along with an amazing Cocktail masterclass for later that afternoon.
The Vegas suite is a beautifully apportioned top floor apartment on the top of Ten Square, it boasts 5 double beds and 2 luxurious shower rooms.
The furniture comprises of studded leather sofas and armchairs and the suite would remind you of an executive penthouse apartment.
The 5 large comfy beds are all arranged for a good old chin wag and if you feel adventurous there is a big hot tub on the balcony for those in need of a dip. There are two stunning bathrooms as well.

It's the ideal place for pre-wedding celebrations for the ladies, or as in our case, a hi quality hen party.
After visiting The Escape Room http://www.theescaperoom.co.uk/ in Belfast the ladies returned for a cocktail masterclass from the amazing Gary Nib-lock
Gary has been working in the hospitality industry for over 7 years and is the mixologist at Ten Square, he wowed the ladies with his skill and from what I hear he made the event into a roaring success.
Gary's blend of cocktails and jokes kept the hens laughing for hours.
So much so the 'hens' mum booked him for a wedding BBQ.
Gary can be contacted on 07763581185
If you are considering a themed party in some really luxurious surroundings, then consider Ten Square and check out their website to see what they have on offer.
Ten square is a locally owned hotel so support one of your own. The Vegas suite can be booked via hotel reception on  +44(0) 28 9024 1001or  reservations@tensquare.co.uk
The minimum cost for the Vegas Suite is £600 for 5 guests or less and each extra guest costs £70-00 i.e
5 =£600
6 = £670
7 = £740
8 = £810
9 = £880
10 = £950
If your a re going to treat yourself, use a local company where you can be assured of great service and a superb homegrown quality product.