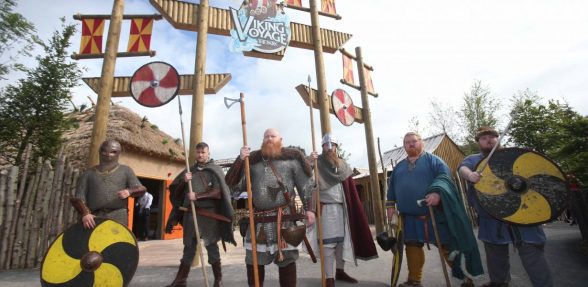 SINCE The Viking Voyage opened to the public in Tayto Park in Ashbourne, Co. Meath last year, over 1000 people have taken the flume plunge!
The Viking Voyage at the Park opened in Ireland's favourite theme park and zoo, Tayto Park on June 15th 2017 and to celebrate Tayto Park has arranged a host of Viking activities for all the family to enjoy over the weekend of the 16th and 17th of June.
Upon arrival at The Viking Voyage at the Park, the first 1000 visitors will receive their very own Viking beard to wear as they take the plunge on the Viking Voyage at the Park and become a real Viking for the day!
As well as Viking themed activities and face painting, Tayto Park has also arranged for real life Vikings to be in situ at the park giving visitors the perfect opportunity to get a Viking Selfie and get up and personal with a real Viking.
Some interesting Viking Voyage facts:
Tayto Park used Viking experts from Sweden and theming contractors who have worked in major worldwide theme parks and film sets including Disneyland and Game of Thrones.
The construction team used Viking building methods including wattle fencing, Viking ships, currachs and thatch built in the methods from 1000 years ago.
Over 60,000 man hours was complete.
1.7 million litres of water was used to fill it once complete and…over 5000 bundles of straw.
Over 5000 trees were planted to recreate the Irish landscape from 1000 years ago.
For more information visit: www.taytopark.ie
Facebook: @TaytoParkIreland
Twitter: @TaytoPark
Instagram: @TaytoPark
YouTube: TaytoPark