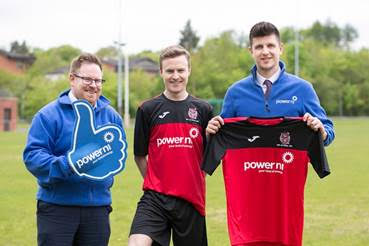 POWER NI has given its backing to Belfast's 8th Old Boys Football Club, by providing funding for the first team to buy a new kit for the clubs 90th anniversary.
The money came from Power NI's staff sponsorship scheme 'Helping Hands' which gives its employees the opportunity to nominate local organisations to receive funding.
Power NI employee, Paul Kennedy, nominated the local football team to receive the support as he has been playing as a striker on the team since 2013 alongside two more of his colleagues.
Thankful for the funding, Paul commented; "Like any football club it's difficult to get new equipment and kits as the money goes towards registration and pitch fees.
The result of this donation has benefited management and players alike, as it has allowed us to by a new kit to commemorate the 90th year of the club."
Founded in 1928, 8th Old Boys Football Club's origins can be traced to Cooke Centenary Presbyterian Church in the Ballynafeigh area of Belfast's Ormeau Road.
The club joined the DAWFL in 2006/07 after a long and illustrious association with the Boys Brigade Old Boys League.
Amongst other Honours, the club were BBOB Division 1 champions on three occasions, Bunting Cup winners on three occasions, Neil Cup winners once, and Nicholl Cup winners once.
Club manager, David Quigg said; "The Helping Hands fund is a terrific initiative. With the club celebrating its 90th anniversary this year the money from Power NI has allowed us to commemorate this with new kits for the first and second's team.
"Without this funding it simply wouldn't have been possible so all at the club appreciate your support.
"Not only have you been providing the club with players over the years, you're now supplying the kit!"