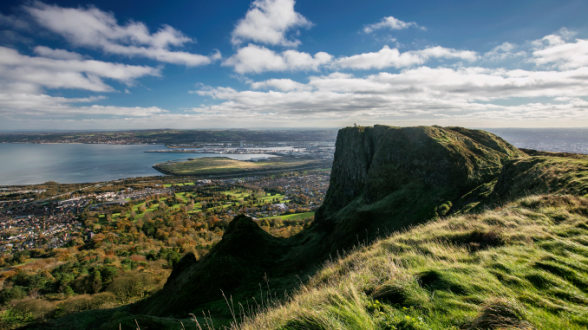 BY TIM HEDGLEY, GROUP TRAVEL EDITOR,
WITH sunshine forecast for the Bank Holiday weekend, there's no better time to explore the beauty of the Cave Hill. 
And Belfast City Council has planned a host of free family activity to help you discover more about this iconic landmark that's right on your doorstep.
Distinguished by its famous 'Napoleon's Nose', which resembles the profile of the famous emperor Napoleon, all of Belfast can be seen from its peak; and on a clear day, you might even spot the Isle of Man and Scotland.
Cave Hill is also thought to be the inspiration for Jonathan Swift's Gulliver's Travels.  It's said that Swift was inspired to write his famous novel, after imagining that the Cave Hill resembled the shape of a sleeping giant safeguarding the city.
Lord Mayor of Belfast, Councillor Nuala McAllister said: "Walking on Cave Hill is one of my favourite ways of spending time with family and friends.
"We're so lucky to have this beautiful natural icon on our doorsteps in north Belfast, and we want to encourage more people to visit and enjoy the stunning views, the nature and the peaceful environment that it offers.
"We've made a commitment in our Belfast Agenda to enabling active, healthy and empowered citizens, and getting out and about is one of the steps to positive mental health which has been highlighted in the Take 5 Campaign, so we've lined up a series of fun, free events for people of all ages to enjoy, giving you the opportunity to discover the flora and fauna, try your hand at painting – or even foraging!"
The series of events starts this Sunday, 27 May at 2:30pm with 'Into the Woods' – a guided park walk for the whole family, looking at the history and wildlife of the Belfast Castle Estate, the ideal way to work up an appetite for your Sunday roast.
On Sunday, 3 June from 11am-3pm, bring a picnic and join in the Big Lunch at Belfast Castle, where there'll be bouncy castles, face painters, balloon modellers, a climbing wall, BBQ and popular street entertainers 'Babcock and Bobbin' to enjoy.
Then on Saturday, 16 June from 10am-1pm, Phil Simpson will be sharing his wealth of practical knowledge and plant lore and showing what can be foraged on Cave Hill.
And the morning of Saturday, 21 July offers an opportunity to discover the flora of Cave Hill with Karl Hamilton from 10am – 1pm, as he guides a plant identification walk in the Nature Reserve at the back of the hill.
It's all about the butterflies on the morning of Saturday, 18 August from 10am – 1pm when Cormac Hamill will lead a group in search of some of the 17 species regularly found on Cave Hill.
Then on Sunday, 2 September, budding creatives are invited to join two artists on a walk through Cave Hill Country Park, with regular stops for observing and sketching, with encouragement and support from the facilitators.
To mark the move into Autumn, on the evening of Friday, 7 September from 9pm – 11pm, Aidan Crean will be going batty about the enchanting nocturnal animals of Cave Hill, and you'll have a chance to listen to the different bat calls during a relaxing evening dander.
For more information on all of these free events go to www.belfastcity.gov.uk/cavehill and for more information on Taking 5 for positive mental health visit www.makinglifebettertogether.com