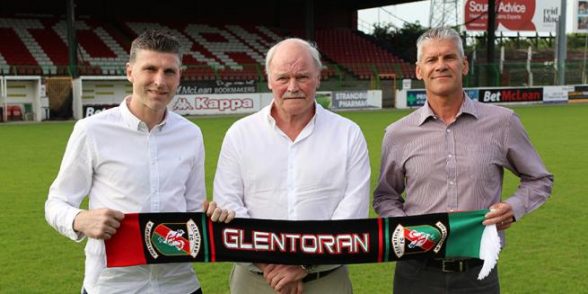 GLENTORAN Football Club has this evening announced the new management team for the club.
Ronnie McFall has accepted the club's offer to continue as team manager for the forthcoming season with two Glentoran legends joining the management team in senior positions.
Gary Smyth (Assistant Manager) has joined from Harland & Wolff Welders on a three year contract.
Paul Leeman also returns to the club after seven years. Paul, like Gary a product of the Glentoran youth system as a player, will also work closely with Under 20s Manager David Lowry and the Glentoran Academy to develop and implement a clear pathway providing first team opportunities for the young talent at the club. Paul has also signed a three year contract.
Kieran Harding remains as part of the management team as joint assistant manager with responsibility for first team coaching. Kieran joined Glentoran with Ronnie McFall in February.
Chairman Stephen Henderson said this evening: "We are very pleased to have been able to put this management team together.
"Ronnie has agreed to lead a new structure as we prepare the ground for a regime we believe can successfully work to return the club to the sustainable competitive position we all expect.
"It was critical to the club to appoint people that had the correct balance of talent, professionalism, fortitude, hunger and a real connection with a fan base that have remained steadfast and loyal through our difficult recent seasons
"Supporters and the Board have felt for some time that the management team at the Oval needed to include some presence with an understanding of Glentoran and of the standards historically set by the club.
"With Ronnie, Gary and Paul we now have three men who between them amassed 1104 first team appearances and 43 winner's medals during their combined 38 seasons involved with the Glentoran first team. We have long wanted to bring Gary and Paul back to the club but on previous occasions time and circumstances weren't right.
"Now they have returned we are confident their talent, experience and understanding of Glentoran will prove invaluable in the years to come.
"Ronnie has been advising the club on the playing squad, most recently the two year contract extension signed by Robbie McDaid (story to follow). He has also been identifying targets for next season and will be supported by the board as he and the management team reshape the squad for a better season.
"Finally, we understand the frustrations of supporters at the lack of information up to now but both Ronnie and Gary have spent time out of the country since the season ended.
"This has been finalised and announced as soon as both men were available, as well as taking into account personal and professional considerations and respect for previous employers."
Ronnie McFall
Ronnie signed for Glentoran as a player as a 28-year old in 1975. He had previously played mostly with his hometown club, Portadown with spells at Dundee United and Ards. He was a regular in our League winning team in 1977 and also won winners medals in the Gold Cup (twice) and Ulster Cup. He played 148 times for the club before his surprise promotion to the manager role to succeed Arthur Stewart in February 1979.  In his second full season as manager Ronnie achieved the remarkable feat of leading his team to the Gibson Cup as the only undefeated team in the modern era, Northern Ireland's own "invincibles". In his six years as manager, Ronnie's teams won six trophies, including our first Irish Cup in a decade in 1983.
After leaving the Glens, Ronnie returned to Portadown where he launched the most successful era in that club's history, winning a remarkable 23 trophies before leaving Portadown two years ago.
Ronnie said tonight: "When the Chairman raised this possibility a couple of weeks ago to stay on to help stabilise the club I was only too happy to do so and I'm also happy to have Kieran here also.  As Manager one of the big priorities is to provide the best possible grounding for Gary at Premiership level. He's a Glenman through and through and he's done the right thing getting a good base of experience before coming back to the club. He's done very well at the Welders and he's clearly ready to step up to the Premiership and to Glentoran. Opportunities like this don't come along that often and with a 3-year contract signed at this great club we'll do everything we can to help him bed in this season. We'll all do the groundwork this season that will help take the club on to great things and back to where it was when Gary was a great player here.
For this season we know what we need to do to bring about the right level of improvement. It's obvious we have far too many professional players at the club so a number will need to go over the summer. I've had a good chance to analyse the squad in recent months so I'll be speaking to players over the next while to get that process started. As a manager I've always preferred working with a smaller but higher quality squad. That lets the players know where they stand at a club but equally importantly it creates a clear pathway for young players from the under 20s and the Academy to come through into a more stable, confident team. That was always the Glentoran way of doing things but the club seems to have lost that and far too few players have come through the ranks recently the way Gary and Leeper and so many others did.
It goes without saying that we need to strengthen in a number of key positions so without saying too much I've been looking at options and we'll be working hard to do that over the next while. Our support at the recent playoff matches was outstanding the way they backed the team from start to finish. We'll all be doing everything we can to make sure they have plenty more good things to get behind next season"
Gary Smyth
Gary is a lifelong Glenman from East Belfast who joined the club as an 18 year old, making his debut as a centre half in the 1989/90 season. In his three spells at the club Gary made 364 appearances, winning two League Championships and two Irish Cup medals among the 12 winner's medals he picked up.  He was also Ulster Player of the Year in our 2002/03 Championship season.  In total Gary gained 18 winners medals in his twenty seasons as a player in the top division. After finally leaving the Oval in 2008 he had a season with Stephen Baxter at Crusaders, winning his fourth Irish Cup medal in his final game.
On retiring as a player in 2008 Gary rejoined Glentoran as Under 18 Manager. He then had a spell as Assistant Manager at Lisburn Distillery and has completed five seasons as Manager at Harland & Wolff Welders where he has just finished the season third in the Bluefin Championship.
Gary's connections with Ronnie McFall at the Oval goes back to the 1980-81 season when he was an 11-year-old supporter in the famous dressing room photograph of the invincibles with the Gibson Cup.
Gary said: "I'm delighted to be coming back to Glentoran. I had 5 great years at the Welders and was very happy there but this is MY club and I had to accept the chance to contribute to a new, positive era here. This opportunity nearly came about two and a half years ago. It was the right job at the wrong time for me then but I've learned a lot with 3 more years experience as a manager and when the club approached me I knew it was time to come home. I'm very excited and I know it's been a massive decision for me. After 13 years here, I know the club and what's expected and I'm ready for the challenge.
"I know I'm coming in at a difficult time for the Glens but that's part of the challenge. I'm looking forward to working with Ronnie to quickly start putting things right. Obviously our immediate target is a secure top six finish but we're Glentoran and I know that can only be the start. We also need to show up a lot better in the cup competitions as that helps generate more of a feelgood factor around the club while we build. That's what we need to do while we make sure we get the right people in and around the club.
"Glenmen have got used to losing and that's not something anyone here should accept. The first thing we need to do is get some stability into the team. If we make ourselves hard to beat and stop conceding goals easily then that will breed confidence among both the players and supporters and give us something strong to build on. So we need to come back after the holidays and immediately get the boys fit and confident ready for the start of the season. Then we can develop more of a winning mentality at all levels of the club. I never accepted defeat at any point in my career. It ruined my week and it's important we get to the point where everyone feels that.
"This is a great club and a massive club with thousands of supporters. Our supporters are demanding but I know it doesn't take much to get the support onside. Just show that we know what we're trying to achieve and how to achieve it and I'm certain the support will buy into it. I've committed long term to the club and I want to make Glentoran supporters feel proud of our club again."
Paul Leeman
Another East Belfast Glenman, Paul was the fourth generation of his family to play for the club when he made his debut as an 18 year old at the end of the 1995/96 season as part of a golden generation of Oval youth players including Andy Kirk,
Stuart Elliott and Colin Nixon. "Leeper" may well be Glentoran's most successful ever captain, having led the team to three League Championships and an Irish Cup win in the first decade of the millennium.
Paul was a first team player at the Oval for a full fourteen seasons, playing 597 times for the club. He won no fewer than twenty one winners' medals for the Glens including four League Championships and four Irish Cups. He and Gary Smyth were our centre back partnership during the highly successful period from 2001 to 2004 when we averaged two trophies per season under Roy Coyle.
After leaving the Oval in 2011, "Leeper" went on to have four very successful years as a player with Stephen Baxter at Crusaders, winning three more medals including a final League Championship in his last season as a player in 2014/15.