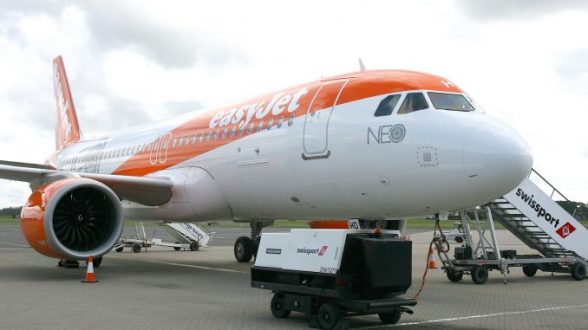 BY TIM HEDGLEY, GROUP TRAVEL EDITOR
EASY-JET, Europe's leading airline has showcased its Airbus A320neo at Belfast International Airport.
The neo brings significant environmental and operational benefits – up to 15 percent savings in fuel burn and CO2 emissions, and a reduced noise footprint of 50 percent on take-off and landing phase.
Crucially, this means the quieter aircraft minimises its noise impact on local communities.
easyJet is the largest airline serving Northern Ireland, operating over 70% of flights from Belfast International Airport and almost 50% of all commercial passenger traffic across Northern Ireland.
The airline is excited to be introducing the neo to some of these routes this year, as the airline's fleet of A320neo aircraft increases.
Since 2000 easyJet has reduced its carbon emissions per passenger, per kilometre by over 32%.
Its current target is a 10% reduction from its financial year 2016 performance by 2022, which would be a 38% improvement from 2000.
Ali Gayward, easyJet UK Country Manager, said:
"We are very pleased to have continued to deliver a reduction in the amount of CO2 we emit and look forward to reaching our target of 77 grams by 2020. By using modern Airbus aircraft and flying them efficiently we have reduced the carbon impact of our flights by a third since 2000.
"We are delighted to be showcasing our new Airbus A320neo in Belfast. As the largest airline at Belfast International Airport last year we carried over four million passengers and we're committed to finding ways to increase efficiency,  for example by incentivising higher load factors as well as the use of modern and efficient aircraft like the Airbus A320neo.
"The A320neo is also 50% quieter during take-off and landing, which is hugely important to easyJet as it minimises our impact on the local community.
"Next summer, easyJet will also introduce the 235-seat A321neo which will enable easyJet to continue to deliver growth in slot constrained airports and deliver a further improvement in CO2 per passenger kilometre."
Graham Keddie, managing director, Belfast International Airport, said:
"We are delighted to partner with easyJet to showcase the revolutionary A320Neo aircraft.  We are committed to using the latest technology in the airport and also working with our airlines to minimise any environmental issues that may have an impact on the local community.
"Utilising this aircraft on routes to and from Belfast underlines easyJet's commitment to this market.  As the biggest airline in Northern Ireland they play a huge part in our role as the gateway to Northern Ireland."
easyJet's biggest impact on the environment is its fuel consumption and the associated carbon emissions and that is why the airline is currently working on several projects with the aim of continuing to significantly reduce its carbon footprint.
In September easyJet announced that it was providing an airline operator's perspective to Wright Electric which is developing a commercial passenger plane that runs on electric batteries. The collaboration will support their goal for short haul flights to be operated by all-electric planes within 10 years.
Hydrogen taxiing system
easyJet is working with Safran Landing Systems to trial e-taxi hydrogen fuel cell technology in the coming months in what will be a revolutionary zero emissions taxiing system for its aircraft.
Due to the high frequency and short sector lengths of easyJet's operations, around 4% of the airline's total fuel consumed annually is used when the airline's aircraft are taxiing.  Once applied across its fleet of 272 aircraft, this technology could save around 55,000 tonnes of fuel and associated CO2 emissions per year. Trials will take place next year at Toulouse Airport.
Efficient aircraft
easyJet operates an efficient fleet of Airbus A320 family aircraft equipped with CFM56 engines.
This year easyJet started to operate the new generation Airbus A320neo aircraft. There will be 100 of these aircraft in the fleet by the end of 2022. These aircraft, equipped with CFM LEAP-1A engines and wingtip 'Sharklets', are 15% more fuel efficient than current generation aircraft.
From summer 2018 easyJet will also start to receive 30 A321neo aircraft, with 235 seats compared to 186 seats on the A320neo aircraft. This will also contribute to easyJet's carbon reduction target by reducing the amount of fuel used to carry each passenger.
About easyJet:
easyJet is Europe's leading airline offering a unique and winning combination of the best route network connecting Europe's primary airports, with great value fares and friendly service.
easyJet flies on more of Europe's most popular routes than any other airline. easyJet carries over 82 million passengers annually, of which more than 13 million are travelling on business. easyJet flies 298 aircraft on more than 980 routes to 156 airports across 33 countries. More than 300 million Europeans live within one hour's drive of an easyJet airport.
easyJet aims to be a good corporate citizen, employing people on local contracts in seven countries across Europe in full compliance with national laws and recognising their trade unions. The airline supports a number of local charities and also has a corporate partnership with UNICEF which has raised over £10m for the most vulnerable children since it was established in 2012.
The airline takes sustainability seriously. easyJet invests in the latest technology, operates efficiently and fills most of its seats which means that an easyJet passenger's carbon footprint is 22% less than a passenger on a traditional airline, flying the same aircraft on the same route.
Innovation is in easyJet's DNA – from our launch over 20 years ago when we changed the way people fly to the present day where we lead the industry in digital, web, engineering and operational innovations to make travel more easy and affordable for our passengers.