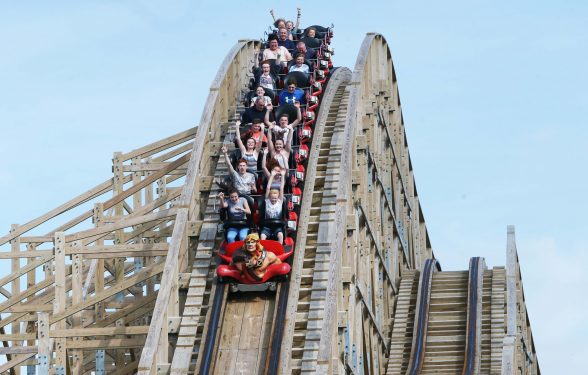 ON Saturday 12th and Sunday 13th May 2018 Tayto Park, Irelands only theme park and zoo will host a special Clubs Weekend, where clubs across the country can enjoy a special discounted entry and unlimited attractions for just €18 per person.
Whether you're a swimming, arts and crafts, horse-riding or football club with a minimum of 30 group members, Tayto Park is encouraging club members from all four corners of the country to wear their club colours over the weekend and enjoy the ultimate club day out with their friends and peers. Clubs must pre-book and have the option of including a Special Kid's lunch for just €4.95 per child.
In addition to the Club Weekend, this season, Tayto Park, located in Ashbourne, Co. Meath has put together the ultimate school tour package.
Only €15 per pupil, kids will enjoy a full day admission to Tayto Park including a 45 minute guided tour of the parks zoo with over 300 animals, unlimited access to popular attractions including The Cú Chulainn Coaster or The Viking Voyage at the Park and a self-guided visit of the Tayto Factory Tour.
This year, Tayto Park welcomed a host of new attractions for families including Ireland's first ever driving school for kids, The Nissan Driving School at Tayto Park along with the arrival of rare Sulaswesi Crested Macaque and White Headed Vultures to the parks zoo. 
Attractions for everyone, children and parents can enjoy the ultimate family day out while trying their hand at rock climbing and air racing before taking a ride on Europe's largest inverted wooden rollercoaster, the Cú Chulainn Coaster or taking a splash on Ireland's largest flume attraction, The Viking Voyage at the Park.
For more information on Club Weekend at Tayto Park School Tours visit: www.taytopark.ie
Facebook: @TaytoParkIreland
Twitter: @TaytoPark
Instagram: @TaytoPark
YouTube: TaytoPark