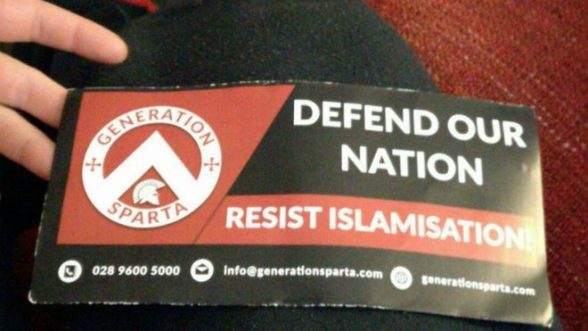 POLICE have launched a hate crime investigation after anti-Islam leaflets were put through letterboxes on the lower Ravenhill Road area of east Belfast earlier this week.
They claim to be from a group calling itself 'Generation Sparta', and asks readers to resist what it calls 'Islam-isation'.
It is thought the pamphlets were delivered on Monday.
The leaflet drop has been condemned by local councillors.
Ulster Unionist Party councillor Chris McGimpsey said there were "a significant number of young immigrant families" in the community.
"This behaviour is unwanted and does not reflect the people of the lower Ravenhill Road area," he said.
Sinn Féin MLA Mairtín Ó Muilleoir said: "A leaflet circulating across parts of our city is targeting our Muslim citizens for racial hatred.
"It also targets Sinn Féin for our commitment towards a diverse, inclusive and pluralist society.
"Those racist elements behind this anti-Muslim and fascist propaganda intend only to stoke fear, hatred and division amongst the people of our shared city.
"Sinn Féin unequivocally condemns hatred of this kind."
Local police commander Chief Inspector David Moore said: "We are treating this as a hate incident at present and we are making a number of enquiries.
"The PSNI continues to make it clear that hate crime, in any form, is unacceptable."
Wasif Naeem, from the Belfast Islamic Centre, said the people behind the leaflets were "a tiny minority of people, sitting at home printing these things off, trying to create a sense of panic in the community".
He also said that the circulation of anti-Islam literature was "unfortunately a regular occurrence".