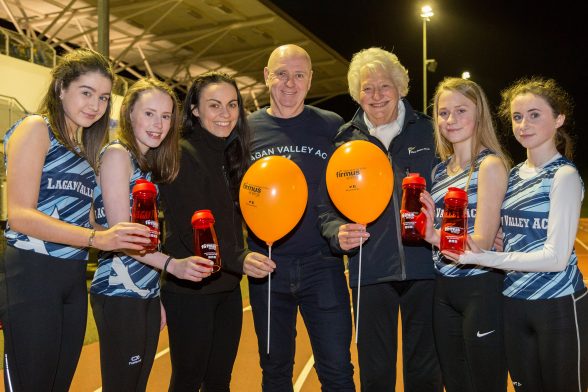 LOCAL Natural Gas company firmus energy were joined by Dame Mary Peters and Lagan Valley Athletics Club to launch the firmus energy Fab 5 Series 2018. 
Entering its 28th year and formerly the Super Six Series, firmus energy fab five is Northern Ireland's largest athletic series, hosting a wide range of track and field events, open to all young people aged eight to eighteen.
firmus energy has been working in partnership with The Lagan Valley Athletics Club  in the run up to the 'Fab 5' event which will include five meetings throughout the summer, the first one to take place on 12th April.
The other four dates are 26th April, 31st May, 9th August and 30th August
Angeline Murphy, Marketing Manager at firmus energy said:
"We are excited to be continuing our partnership with this very popular competition and play a small part in the future development of our athletes.
Lagan Valley Athletics Club are at the forefront of developing young talent and their management of these events is of the highest quality.
"We would encourage anyone who has an interest to come along and have a go; they could become the next Mary Peters".
Its first ever event in 1990 saw future Commonwealth Games athletes such as Vicki Jamison, Gareth Turnbull and Brendan McConville all compete.
More recently, Amy Foster, Ciara Mageean, Michael McKillop and Kelly Neely have used the series as a platform for their future development and success.
NI Para athlete Jack Agnew, who won gold in the European Junior Para Athletics Championships in Switzerland in 2015 and will represent NI in the Commonwealth Games on Australia's Gold Coast in April, has also been a successful participant in the series' Wheelchair events.
In 2017, the series welcomed over 1,000 young athletes from across Northern Ireland who took part in a range of track and field events, including the 100-metre sprint, long jump, javelin and shot putt.
Although a highly competitive series, which has seen a number of Northern Ireland's future international athletes take part, the event encourages all ages and abilities to come and try their hand at a range of disciplines.
Winners from the 2017 series included athletes from across Northern Ireland, including Newcastle, Downpatrick, Ballymena, Antrim, Lisburn, Bangor and Derry~Londonderry. Dame Mary Peters, Gold Medallist Winner in the 1972 Summer Olympics in the women's pentathlon attended the launch alongside Lagan Valley Athletics Club Chairman Stephen Edgar.
Lagan Valley Athletics Club Chairman Stephen Edgar added:
"We were delighted with the turnout of athletes for our series last year and are always looking to improve on what we offer to ensure our athletes get the most out of each meet.
"We get a lot of support behind the scenes from the local community, athletes' families and volunteers.
"The support we get from firmus energy is vital to ensure we can continue this great event and nurture both the health and wellbeing of our young people as well as Northern Ireland athletes of the future".
Online registration for the next event in the firmus energy Fab 5 Series, which will take place on Thursday 12th April, is now open.
For more information and to register for the event, visit the firmus energy Fab 5 facebook page or www.laganvalleyac.co.uk and click the 'firmus series' tab, where the £3 entry fee to each event can also be paid.