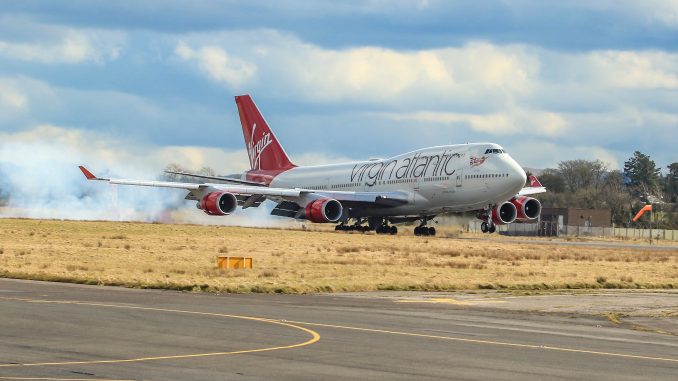 BY TIM HEDGLEY, GROUP TRAVEL EDITOR
VIRGIN Atlantic has commenced its biggest ever season from Belfast International Airport, which is expected to see 20,000 holiday-makers take advantage of the extra flights. 
From this week, the airline's Belfast to Orlando route will run for 28 weeks, more than trebling the number of seats from the Northern Irish capital to the sunshine state.
Launched in 2015, Virgin Atlantic's seasonal service has proved a popular one, with additional seats being added to the route each year.
This year, flights will peak at two per week during June and July, with a once weekly service operating for the rest of the season.
The increased flights will operate until September.
A Boeing 747-400 aircraft will operate the airline's Belfast to Orlando service on Mondays commencing on 26th March – 4th September.
An additional service will fly on Fridays between 22nd June – 13th July. The aircraft will be configured with 14 Upper Class seats, 66 Premium Economy seats and 375 seats in Economy.
The Belfast to Orlando service forms part of Virgin Atlantic's joint venture partnership with Delta Air Lines, who operate up to 39 transatlantic flights from the UK to the USA per day.
All of Virgin Atlantic's fleet is now wifi enabled, allowing customers to keep fully connected throughout their journey.
For those travelling with children, the airline offers a dedicated 'kids zone' on its in-flight entertainment system, along with a special kids pack, ensuring the youngest of travellers are kept entertained throughout the journey.
Last year, Virgin Atlantic celebrated 25 years of flying from the UK to Orlando, having flown millions of customers since the route launched and to celebrate, both Belfast International and Glasgow Airport have seen expansions in their Orlando flying programme.
Shai Weiss, Chief Commercial Officer at Virgin Atlantic, commented;
"We've received a warm welcome in Northern Ireland ever since our services began in 2015, with our flights becoming increasingly popular each year.
"I'm really pleased that we're able to offer our biggest ever season from Belfast to Orlando, enabling even more of our customers to have the holiday of a lifetime in the sunshine state." 
Uel Hoey, Business Development Director from Belfast International Airport said: "Florida is a firm favourite with local holidaymakers and we are delighted that Virgin Atlantic has responded to strong customer demand by increasing frequency on this popular route."