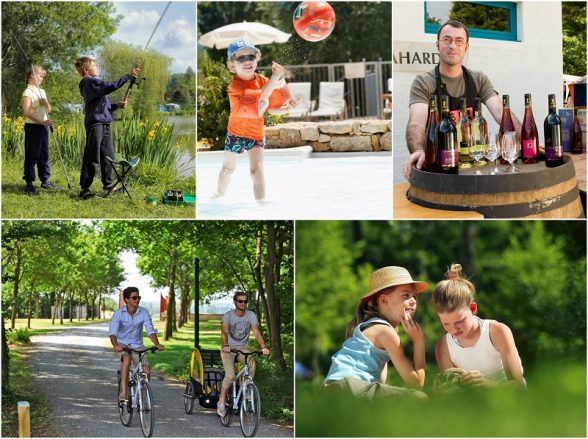 BY TIM HEDGLEY, GROUP TRAVEL EDITOR
If you are a glamping enthusiast looking for an adventure in France this year, then look no further than vintage outdoor accommodation specialist Les Castels.
Launched in 1959, Les Castels now represents 8,200 plots spread over 32 locations and featuring 4 & 5 star establishments.
Les Castels are characterised by outstanding sites where estate guests can enjoy the cultural heritage and beauty of the French regions.
They offer a wide choice of spacious and top-of-the-range accommodation (chalets, mobile homes, gîtes, apartments, tent plots and more), facilities and entertainment for all the family.
With professional expertise combined with spacious and top-of-the-range accommodation, know-how and a touch of savoir vivre, the chain upholds its commitments to its members and customers by only selecting outstanding properties and sites and putting their heart and soul into them, which is underpinned by the motto: "Stars and a soul".
This compares very favourably with the increasingly standardized offer of other groups. A single reference and booking database for all the products provides an enhanced service quality to customers on www.camping-castels.co.uk.

" Recharge your batteries with family
at the heart of the Sologne! "
The five star Les Bois du Bardelet is located in Loiret, between Sologne and the Loire Valley, and stretches over 18 hectares, nestled between ponds and forests.
There are 245 plots here, 125 for hire.  The plots are very spacious (between 100 and 300 square metres), well delineated and countrified. The mobile-homes have between one and three bedrooms and lovely views over the water and the well-equipped glamping tents have two rooms each.
The site features a super aquatic centre, water slides and rides, a covered pool and a special area for the tots.  Fishing in the ponds and cycling along the river Loire are two of the most popular activities here.
A totally unique setting for your holiday in the Loire Valley
The four star L'Orangerie de Beauregard in Villedômer is brand new, opening its doors this year.
It's a dream come true for British owners Jane & Tim Rocke who have worked tirelessly in France for several years to come to this point – operating their very own glamping site!
This 4 star campsite near Tours, close to the areas famous châteaux, is set around a pretty manor-house on a 53 hectare estate and the campsite services are located in its beautifully restored old buildings.
There are 150 spacious plots of up to 150 square metres housing glamping tents and wooden barrels or cabins.
There is a lovely pool area too.
Cycling is very much to the fore here – not just in the lovely woods but along the Loire River too and the route of St Jacques de Compostella.