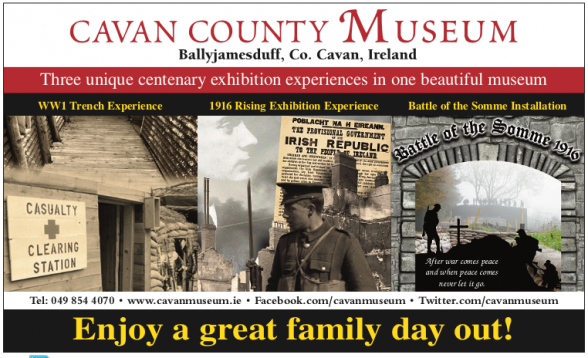 BY TIM HEDGLEY, GROUP TRAVEL EDITOR
PROBABLY one of the last places to expect the largest WW1 trench experience in Ireland would be Ballyjamesduff in Co.Cavan.
Yet the people in Cavan have done just that.
So next time your thinking of a museum day out that brings life to th estories of World War One, then take a magical walk back through time the historic wonderland that is Cavan County Museum!
This exciting and vibrant museum takes history of the page and brings it to life with larger-than-life outdoor exhibitions such as the World War I Trench Experience and Battle of the Somme Instillation.
Here you have the opportunity to walk around the largest replica trench in Ireland or the UK and experience how it felt to fight in "the war to end all wars".
WW1 Trench Tour from Bygone Memories Media on Vimeo.
It's so realistic, you can practically feel the bullets flying overhead, so make sure you keep low!
The 1916 Rising Experience, exhibition also re-lives the chaos and violence of the Easter Rising with a giant replica of the GPO and a walk-though tunnel, mirroring the cramped conditions endured by the rebels.
Indoors, Cavan County Museum is a treasure trove of fascinating artefacts from our past, such as ancient arrowheads that our ancestors used to hunt, or the mysterious three-faced Corleck Head and Killycluggin Stone.
This museum is a testiment to "working together" and "respecting views and culture" Maybe the "folks on the Hill" could learn a thing or two!
The Museum aims to collect, conserve and ultimately display the material heritage and culture of County Cavan and its environs, for the benefit of the public from all over Ireland.
Exhibition galleries feature unique artefacts dating from the stone age up until the twentieth century, material spanning over 6000 years of occupation in Cavan.
Displays of notable interest include the Killycluggin stone and the three-faced Corleck Head, two of the most recognisable examples of Celtic spirituality in the country.
The museum also houses a medieval Dug-Out boat and a selection of medieval Sheela-na-Gigs, as well as a Folk Life gallery depicting life in the late nineteenth and early twentieth centuries.
Newly-opened galleries deal with topics as diverse as the Great Famine, Percy French and the Lords Farnham.
Their temporary exhibition space plays host to visiting and currently relevant exhibitions, whilst the Eden Gallery is home to regular art shows given by local and national artists.
Cavan County Museum, Ballyjamesduff, is open Tuesday, Wednesday, Thursday, Friday, and Saturday from 10am – 5pm.