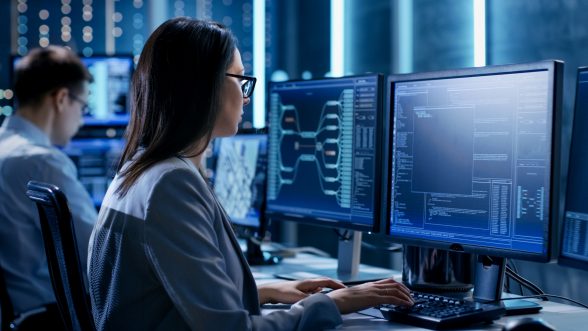 JOBS in Data Protection and Cybersecurity have increased as businesses across Northern Ireland prepare for the introduction of new tougher data protection legislation according to latest NIJobs.com Jobs Report with Ulster Bank.
The leading recruitment website can reveal that the number of roles in this sector increased by 78% compared to the previous year.
The new data protection law, which comes into effect on 25th May 2018, known as GDPR will give people more control over their data and aligns data protection policies across the EU.
Sam McIlveen, General Manager of NIJobs.com gives further insight from the latest report;
"Many businesses are working hard to prepare for this more robust law and NIJobs.com has seen considerable demand for staff with experience in data protection.
"If companies break GDPR regulations, then the penalties are severe. They can be fined up to 4% of their global annual turnover.
"Given the size of the fines a business could incur, we would expect this would continue to be an area of growth for recruitment.
"These types of jobs along with their niche expertise are here to stay.
"Running alongside the data protection jobs we are also experiencing a rise in cybersecurity jobs again due to the new GDPR legislation. Data Protection and Cyber security go hand in hand.
"Not only do people have to know how their data is being used by businesses but they also need to be confident that their data is stored securely."
The NIJobs.com Jobs Report with Ulster Bank analyses and interprets data with Ulster Bank's Chief Economist Richard Ramsey.
It is a timely indicator offering important insight about recruitment trends, the types of jobs people are looking for and the roles companies are keen to recruit here.
Key Challenges
Looking ahead for the year, Ulster Bank's Chief Economist Richard Ramsey says;
"One of the key challenges facing businesses in Northern Ireland will be skills shortages.
"This is due in part to increased demand in areas linked to the global recovery and the fact that EU nationals in many sectors are leaving for elsewhere. EU nationals are increasingly attracted to faster growing parts of Europe such as the Republic of Ireland where the more favourable exchange rate may also be a factor.
"Employers will also be under pressure this year to increase wages as inflation rises and economic conditions remain relatively positive. Many will also be contending with the mandated National Living Wages increases.
"With rising inflation, the retail industry and consumer sensitive sectors will also come under pressure due to a squeeze on consumer spending. This may well curtail recruitment intentions in these sectors.
"Conversely, with visitor numbers continuing to rise and a number of new hotels due to open, recruitment in the hospitality and tourism sectors should continue but these sectors are expected to find it more difficult to fill vacancies."
The latest data from NIJobs.com indicates that the number of jobs listed fell by 3% q/q in the final quarter of 2017 but is up marginally on the same period in 2016.
The top performing sectors for Q4 2017 were Science, Agricultures, Pharma & Food (+48%), Production, Manufacturing (+35%) and Engineering (+34%).
Richard adds; "The strengthening global economic recovery is feeding through into increased demand in Northern Ireland's export intensive sectors.
"Production, Manufacturing & Materials continues to punch well above its weight with a significant number of vacancies.
"This is notable in Co. Tyrone and Co. Down where a number of companies in the sector have been recruiting heavily. "
"Engineering continues to fare even better with the most vacancies of all sectors bar IT. Science, Agriculture, Pharmaceutical & Food posted the biggest quarterly improvement (+48%) in job listings in Q4 2017 and the highest number in almost three years. Looking ahead the strengthening global economy bodes well for Northern Ireland exporters and workers employed in these sectors."
Sam McIlveen GM of NIJobs.com comments "Companies such as McLaughlin & Harvey, Smurfit Kappa, Hutchinson Engineering, RPS Consultant Engineers and JW Kane Precision Engineering have all been actively recruiting over the past 12 months.
"The buoyancy for jobs in this sector is also reflected in our county data.
"We saw the number of jobs advertised in both Down and Tyrone rise by 26% which was, in part, driven by local companies such as Terex and CDE Global in Dungannon and B/E Aerospace and Norbrook in Newry all recruiting engineers.
"This year we can expect competition for talent to increase in Northern Ireland.
"It's good news for candidates but it will be challenging for companies hoping to fill key roles. Employer branding is more important than ever, companies must convince candidates that they are a good company to work for.
"At NIJobs.com we always advise recruiters to make the application process as simple and straightforward as possible and to engage positively with people."
Top Performing Sectors Q4 2017
Science, Agric, Pharma & Food (+48%)
Production, Manufacturing (+ 35%)
Engineering (+34%)