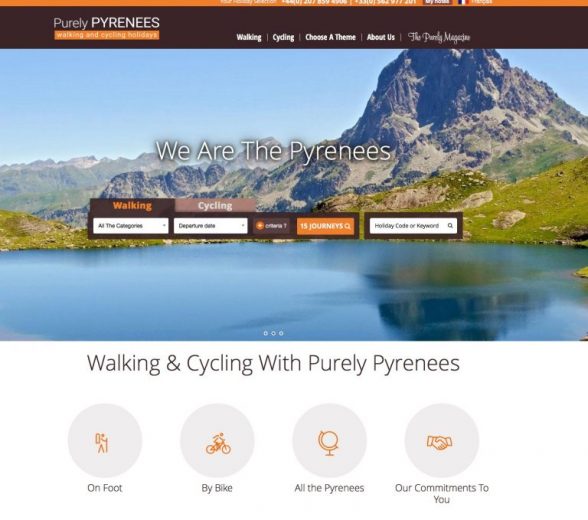 PURELY Pyrenees is seeking to be the leading English speaking tour operator dedicated to self-guided walking and cycling holidays in the Pyrenees, ALL of the Pyrenees, both France and in Spain.
Purely Pyrenees offers the widest range of quality products for the Anglophone market, with great highlights packed into every tour.
They propose an unforgettable experience for that 'once in a lifetime' holiday in the mountains, with superior accommodation, authentic cuisine and all at reasonable prices.
They have knowledgeable, English speaking, professional personnel available 24/7.
Purely Pyrenees is the Pyrenees – they know them and they love them.
They are passionate about them… and they translate that into the quality of the holidays they provide.
This means they have experienced all of what they offer in terms of the walking and cycling itineraries they offer in spring, summer, and autumn for all types of client no matter what the level of ability.
They also handpick the hotels and have tasted the dishes that make it such as pleasure to eat in this part of the world.
A variety of twenty different products were available in 2017 rising to a total of thirty in 2018.
Whether you prefer a short break, long weekend or full fortnight, Purely Pyrenees has something for you.
Purely Pyrenees is dedicated to not only making sure they propose the best possible experience of the Pyrenees, but also that their clients have one of the most memorable and enjoyable holidays of their lives.
So who are they?
Way back in 1984, Vincent Fonvieille was inspired by his love of walking in the Pyrenees to start a company sharing my knowledge and enjoyment with others.
He named the company after the warm breeze that blows up from the south – from the Sahara in fact – that gives us such a unique climate making the Pyrenees both warm and green.
And now he helps over 13,000 people every year to enjoy walking and cycling holidays in the Pyrenees, and in other equally beautiful and unspoiled parts of the world.
While he is French and a Pyrenean through and through, he has always had, as you say, a soft spot for Britain, and worked there while learning English.
So he is delighted to be launching a proper English language holiday programme with itineraries, accommodation, transfers and packages designed exclusively for the worldwide English speaking market.
One of the major differences is this: many English speakers may visit the Pyrenees only once, so they have packed as many highlights into each itinerary as they can.
You visit iconic places every day, and stay in truly authentic hotels enjoying some of the best cuisine in France.
So if you ask who we are, we are Pyreneans – and you can be sure we will do everything in our powers to give you the best possible experience of our homeland.
As people say these days, ENJOY !
Vincent Fonvieille
Founder, La Balaguere & Purely Pyrenees
Well Purely Pyrenees was created in 2017 by the number one independent French operator to the Pyrenees, La Balaguere, to provide exceptional walking (and cycling) holidays in the Pyrenees to suit all levels of ability. Purely Pyrenees is the only operator in the Pyrenees to have their own network of guides and drivers as well as the only one experienced in the wholePyrenees, with holidays tailored to Anglophones.
They are committed to delivering the best possible experience for any particular area or itinerary. For reservations and information call + (44) 027 8594 906 or + (33) 0562 977 201.