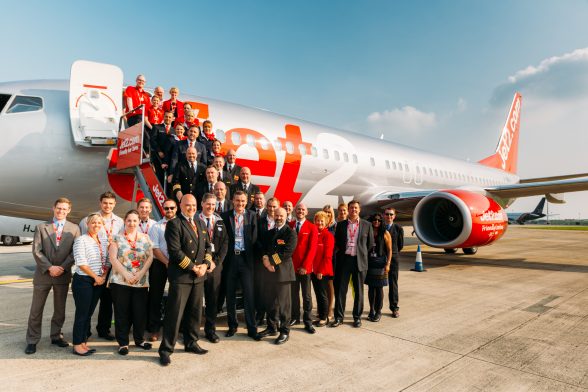 A MAJOR study has recognised Jet2.com and Jet2holidays as amongst the very best companies in the UK for delivering high quality customer service.
The latest UK Customer Satisfaction Index (UKCSI), published by The Institute of Customer Service, has named Jet2holidays joint 9th out of more than 250 companies – making the package holiday specialist the highest ranked tour operator for customer service. Jet2.com comes 29th in the list – the highest ranked airline in the study.
No other package tour operator or airline even makes the top 50, with all the major brands and organisations featuring in the study.
Jet2holidays is given a customer satisfaction score of 84.2, above the national average of 78.1. Over 30 different considerations – such as staff professionalism, quality and efficiency, and complaint handling – are factored into the results.
Jet2.com has a customer satisfaction score of 82.6, meaning yet again it is the only airline to make the top 50.
This success comes on the back of Jet2.com and Jet2holidays' continued investment into customer service and delivering its family friendly formula. Examples include:
Investing in, and growing, its UK based call centre, which has industry-leading response times.
Doubling the number of overseas representatives.
Growing its Free Resort Flight Check-In service which allows customers to securely check-in their bags at their hotel on the last day of their holiday.
Offering a free 24/7 emergency helpline 365 days a year for customers.
Hiring more customer helpers & check-in staff at airports.
Investing significantly in its website and trade team meaning it offers easy, fast to book flights and holidays.
This formula has resulted in a number of accolades and award wins, such as being voted the UK's Best Airline by TripAdvisor, receiving the prestigious 'Recommended Provider' status from Which? for two consecutive years, and scooping four awards at this month's Travel Weekly Globe Awards.
Steve Heapy, CEO of Jet2.com and Jet2holidays said: "This major study by the Institute of Customer Service shows yet again that Jet2.com and Jet2holidays is way ahead of other tour operators and airlines when it comes to delivering customer satisfaction and trust.
"We invest heavily into delivering the very best service for our customers, so it is incredibly rewarding to see this recognised.
"It comes on the back of a number of other awards and accolades, which can only be achieved through a tremendous amount of hard work by the brilliant team we have here at Jet2.com and Jet2holidays."
The UK Customer Satisfaction Index (UKCSI) is a national barometer of customer satisfaction, which has been run by The Institute of Customer Service since 2008 and is based on the responses of over 10,000 customers.
It covers over 30 metrics of customer experience, including staff professionalism, quality and efficiency, ease of doing business, problem solving, complaint handling and attitudes towards trust and reputation.
The measures in the UKCSI reflect the priorities customers have identified as the most important attributes of customer experience, and also include measures of customer effort and Net Promoter Score (NPS).
For further information, visit https://www.instituteofcustomerservice.com/research-insight/research-library/ukcsi-the-state-of-customer-satisfaction-in-the-uk-january-2018