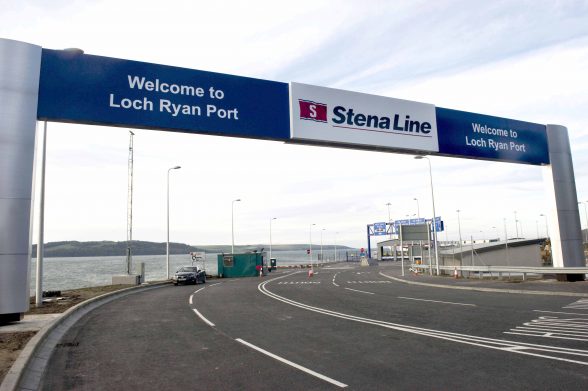 BUSINESSES across Northern Ireland continue to be disadvantaged by poor road access to their key GB markets. 
Leading ferry company Stena Line has raised concerns with local political and business stakeholders to increase the focus and necessity of addressing a critical infrastructure deficit which impacts a range of key NI business sectors including manufacturing, food production and tourism.
Whilst road connections in Northern Ireland have been better at keeping pace with economic development, a situation which will be greatly enhanced once work starts on the York Street Interchange project, the same cannot be said of key roads in Scotland, specifically the road network to and from Loch Ryan, which handles approximately 45% of NI trade with the rest of the UK.
Paul Grant, Stena Line's Trade Director (Irish Sea North) said: "We have been working hard over a number of years to try to get key road improvements made on the A77 and more importantly the A75 heading south from Scotland.
"Despite significant investments by ferry operators between NI and Scotland, including Stena Line's new £80m port and terminal facility at Cairnryan, which included the introduction of two larger ferries, successive administrations have been unable to commit the necessary capital resources to carry out these vital road upgrades.
"Access to and from Scottish ports is severely lacking compared with other UK hubs.  Journeys could be made easier and travel times shortened which would help to reduce NI's remoteness and help support key economic contributor groups such as hauliers and tourists.
"Investments have been made to roads at Holyhead and Heysham and these are already providing tangible benefits to business and tourism levels in their regions."
Paul Grant added: "Local politicians need to engage with other stakeholders to get the Scottish and Westminster governments to work collaboratively to push for a fit for purpose road network system on both sides of the Irish Sea.
"The dualling of the A75 will be a long-term infrastructure project which could take a number of years to plan and complete.
"As it stands however, the clock isn't even ticking so if we want NI to remain a competitive, forward thinking economy which can attract major investments in the future, we need to start the process of change and work collaboratively now to get the commitments and resources in place before a shift in trade away from NI becomes irreversible."