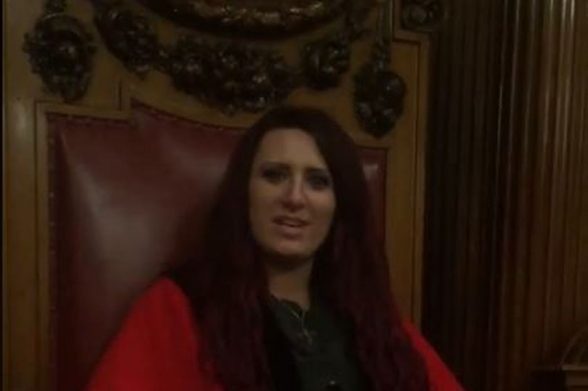 BELFAST City Council has launched an investigation into a video showing Britain First's deputy leader Jayde Fransen making a statement while sitting in the Lord Mayor's chair.
The video – which was posted on the far-right group's Facebook page – shows Fransen dressed in red robes worn by councillors on ceremonial occasions.
Ms Fransen's visit to City Hall was helped by independent unionist councillor Jolene Bunting who supports Britain First.
The DUP and Alliance Party have criticised Ms Bunting for abusing her position as a councillor.
Belfast City Council said it was "aware of the video post and is currently looking into the circumstances".
"The usual procedures for those wishing to film or use council premises were not followed," it said.
"We received no request nor were we made aware of these plans."
Fransen had earlier faced Belfast Magistrates' Court where she was told would stand trial for charges connected to race hate speeches she made in Belfast last August.
The 31 year old, from Anerly, London, denies the charges.
In the video, Ms Fransen said she was facing several charges and thanked people who had supported her in the ongoing case.
Ms Bunting said the video was not meant to be malicious and that it was filmed "on the spur of the moment".
She said she suggested they film a video in the real Lord Mayor's chair after Ms Fransen and other guests said they wanted to film at a replica chair in a tourist attraction at City Hall.
"I didn't think anything of it all. We went up and I did what I usually do with anyone who comes into City Hall, I offered if they would like to put the robes on."
She added that reaction to the video was "a bit ridiculous".
"I don't know if there's maybe an issue with the videoing in the council chamber but I know that I have taken many of my family members and my friends into the chamber.
"I think this is about demonising Jayda Fransen and demonising Britain First as a political party so they don't have the opportunity to run in Northern Ireland."
Ms Bunting added that she would co-operate with any inquiry by the council but that "I don't believe I did anything wrong tonight and I don't believe Jayda did either".
Alliance Party councillor Sian O'Neill said Ms Bunting had brought "shame on herself and the council".
"This video disrespects an office which all parties on the council have sought to undertake in as an inclusive a manner as possible.
"It is an abuse, by Councillor Bunting, of her privilege to access the robes, the chamber and the Lord Mayor's chair to create a false perception of a link between the council and Britain First."
Alderman Brian Kingston, a former lord mayor, said it was a "gross error of judgement" by Ms Bunting.
"As members of council, we can bring people into City Hall and show them around," said the DUP representative.
"But there's protocols about any filming being done in City Hall, especially in the council chamber.
"So to bring Jayda Fransen into the chamber, to put a councillor's robe on her, to place her in the Lord Mayor's chair and have her talking about her court case – this is a gross abuse of Belfast City Council, of our City Hall, of the post of Lord Mayor and its not something that we and the people of Belfast want to be associated with."