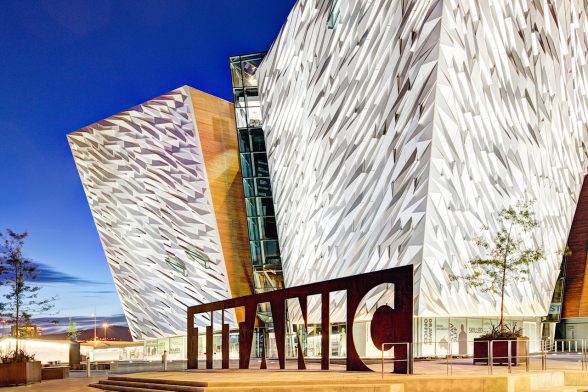 TITANIC Belfast is again opening its doors to help locals beat the January blues by giving away complimentary tickets for local residents for the 14th January 2018.
Titanic Belfast's NI Citizens' Day event on 14th January will provide the opportunity for over 2,000 locals to visit or re-visit the world-class landmark right on their doorstep.
Golden ticket winners will get the chance to enjoy the Titanic Experience, which tells the story of the Titanic, from her conception in Belfast in the early 1900s, through her construction and launch, to her famous maiden voyage and tragic end, as well as SS Nomadic, free-of-charge.
Judith Owens, Chief Executive of Titanic Belfast, said, "At Titanic Belfast, we have continued to go from strength to strength, having been awarded the title of World's Leading Tourist Attraction at the prestigious World Travel Awards last year and are currently experiencing our busiest year to date – we know we couldn't have done it without local support.
"To say thank you and to show our appreciation, we are throwing our doors open for 'golden ticket' winners on 14th January to encourage those who have or haven't visited to be a tourist at home and enjoy the world-class experience on their doorstep!"
Tickets will be allocated via a prize draw.
To enter to win these golden tickets to beat the January blues and experience one of the World's Leading Tourist Attraction, visitwww.titanicbelfast.com/citizensday and register before midnight 7th January.
Winners will be notified week commencing 8th January 2018.
Described by The Guardian as "an inspiring testament to the Titanic and the city that built it", more than four million people from around the world have already visited Titanic Belfast since opening in 2012.
For more information, visit www.titanicbelfast.com.