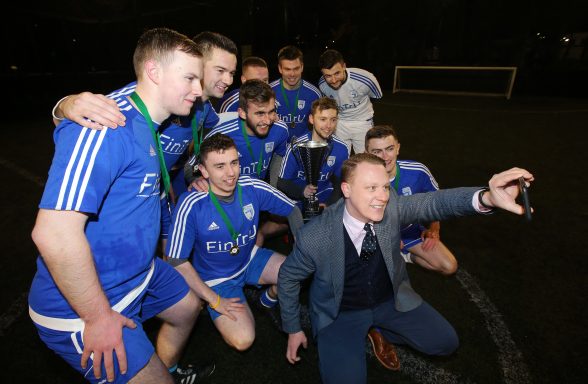 A football team from Belfast-based financial services firm FinTrU has been crowned champions of the first ever Onecom Business League.
The Onecom Business League was created by the UK's largest independent enterprise telecommunications provider, Onecom, and the Irish Football Association.
The five-a-side football tournament kicked off in August, with 24 teams competing for silverware and a training session with the Northern Ireland national team coaches.
The final, which was held at Stormont between FinTrU and Hughes Insurance, ended in a 17-4 victory for FinTrU.
Paul Lawther, Head of Onecom in Northern Ireland, said: "Our partnership with the Irish FA has been hugely beneficial to both parties and has allowed companies who may not always get the opportunity to meet, to network in a fun sporting activity.
"I'd like to congratulate FinTrU on their deserved victory and for becoming the first ever champions of the Onecom Business League.  Congratulations too to Hughes Insurance for making the final."
Gareth Williamson, Sponsorship Activation Manager at the Irish FA commented: "Our goal is to promote, foster and develop football for all and the Onecom Business League fits with our commitment to growing participation at all levels.
"Over the past four months we've brought together various companies in a fun and competitive sporting environment.
"We look forward to welcoming another 24 teams to compete in next year's tournament."