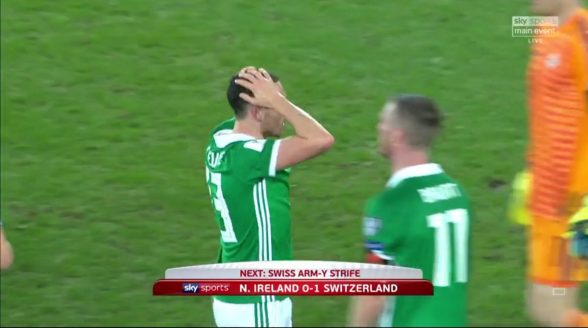 IN one of the most shocking refereeing decisions seen in a long time, Northern Ireland went down 1-0 at home to Switzerland to the worst penalty awards.
Gutted manager Michael O'Neill was is hurting at the end of the game after that refereeing decision that robbed his players of a well deserved point.
Just 12 minutes into the second half, Xherdan Shaqiri's volley from close rangewas  fired straight at Corey Evans, and struck him around the shoulder.
And to the amazement to the 16,000 GAWA fans who packed into Windsor Park, the referee blew his whistle and pointed to the penalty spot.
And to add insult to injury, he booked Corey Evans into the bargain.
Michael O'Neill fumed: "It's staggering to think the referee can give a penalty in that situation.
"The ball actually hits him more in the back, so it's incredible.
"I thought he'd blown for a foul or an offside. Nobody claimed it.
"It's bewildering in this day and age, and it's such a defining moment in the game.
"The opening tackle by Schar was borderline red card, so I thought the referee didn't do us any favours tonight."
O'Neill will now have to regroup his players for the difficult away leg on Sunday in Basle.
Former Northern Ireland international Iain Dowie didn't miss his words over the ref's decision.
"10 out of 10 referees would not give that penalty. he's in a perfect position.
"I thought he was picky all night, and he's got the two big decisions in the game badly, badly wrong.
"How he's given that, in a game of this magnitude, is unfathomable to me."