BY TIM HEDGLEY, GROUP TRAVEL EDITOR
TAYTO PARK, Ireland's favourite theme park and zoo located in Ashbourne, Co. Meath, (only an hour and 30 minutes from Belfast) is excited to announce two brand newspooky

 attractions for Halloween – 

Ghost Hunters 

for children and 

Morbid Manor 

for teens and adults.
Opening today, October 20th, a spooky abandoned mansion at Tayto Park is transformed into Morbid Manor, the ultimate immersive horror experience for teens and adults, with 13 actors in full costume.
Willing guests will pass through various rooms and secret passageways and meet the inhabitants of the haunted manor, both dead and alive.
Adrenaline junkies can then catch a night ride on The Cú Chulainn Coaster, Air Racer, Rotator, Windstar & Endeavour before experiencing the terrifying 5D horror movie, Fun House Express. Before entering the manor, guests will have to make it through the CarnEVIL where they should beware of the creepy clowns and jilted jesters that roam after dark around the deserted carousel in Tayto Park.
By day, children aged 6+ can immerse themselves in Ghost Hunters, a bewitching interactive children's adventure where guests will become ghost hunters and enter an old abandoned manor to discover the strange happenings inside.
On entry, children will receive a torch and will make their way through the manor with a ghostly guide to solve a series of clues to gain entry into the next room. Throughout the walkway, the mansion's ghostly residents will slowly reveal themselves and the mystery behind the manor will be solved.
Children can also enjoy free face-painting, the zoo and other attractions around the park before taking part in Halloween arts & crafts. The World of Raptors, Tayto Park's new birds of prey arena show, is also open and has daily shows at 2.30pm.
As darkness descends over Tayto Park, an eerie atmosphere comes over the carnival rides and guests should beware of the creeps, ghouls and clowns roaming around the park after night fall.
Morbid Manor is open to the public today Friday 20th October and runs on select dates until 30th October and is suitable for over 14's. For more information and to book tickets please visit http://www.taytopark.ie/events/morbid-manor
Ghost Hunters is open to the public this Saturday 21st & Sunday 22nd October and from 28thOctober – 5th November and is suitable for over 6's. For more information visit http://www.taytopark.ie/events/halloween-at-tayto-park
**Morbid Manor is a high impact, intense scare experience, with theatrical scenes to further convey the narrative.**
For more information and to book tickets please visit http://www.taytopark.ie/events
DETAILS – Halloween 2017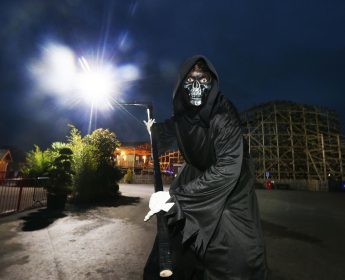 Ghost Hunters day event – Ages 6+
Opening Dates: 21st & 22nd October and 28th October – 5th November from 11am – 4pm
No Pre-Booking Required
Just €6 per person or included with wristband purchase.
Free Halloween themed face painting and arts & crafts.
KIDS UNDER 12 GO FREE on October 31st if they are wearing a Halloween costume. T&C – 1 child admission ticket free with a full priced adult ticket. Excludes Wristbands.
Morbid Manor – Ages 14+
20th October – 30th October
Opening Dates: 20th, 21st, 22nd, 25th – 30th October: 7:30pm – 11pm
For just €30 per person, entry includes:
Night Ride on 7 thrill seeking attractions including the Cu Chulainn Coaster.
Entry to the dreaded Morbid Manor & The Carnival.
Experience a 5d Horror Movie
OR check out our OPENING WEEKEND SPECIAL for just €20 per person