THE latest addition to Belfast's buzzing social scene will open its doors to the public tomorrow (Saturday October 21), following a VIP launch party tonight.
Babel – a vibrant new rooftop bar and garden – is part of a £1.75m expansion of stylish city centre hotel, Bullitt.
The contemporary new space includes a plush indoor bar; an open-air terrace with panoramic views and a retractable roof; and a cosy corner VIP room.
Taking inspiration from 1950s and '60s design, the rooftop bar and garden is the largest in Ireland.
Inspired by the eclectic design of the Mad Men era, plush velvet and leather interiors in a deep green, ocean blue and bubble gum pink colour scheme combine with modern touches including glass balustrades, bespoke lighting, marble and brass detailing.
Accessed via a dedicated new entrance on Ann Street, the stylish space is a laid back, urban oasis with lush foliage, an interior living wall made up of 300 fresh plants and herbs and a vertical exterior garden wall that can be seen from ground level.
Set to shake up Belfast's cocktail scene, the drinks menu features an eclectic range of Shrub Cocktails, using a fresh supply of herbs from a living wall as ingredients and garnishes for the drinks, and the mouth-watering small plates menu is inspired by South and East Asian cuisine.
A further 31 new bedrooms will be added to the hotel later this year, including Bullitt's first twin rooms.
The expansion has created 30 new jobs.
Commenting on the opening, Conall Wolsey, director of Beannchor, said:
"Bullitt marks its first anniversary with the opening of Babel, our stylish new rooftop bar and garden. 
"The venue is a perfect hangout space, with a relaxed, sophisticated atmosphere and stunning views across the city in every direction.
"Our vision for the hotel was for it to be a place where people could work, relax and socialise and the new rooftop bar adds to this offering, transforming a formerly unused space into a vibrant new venue in the heart of the city centre.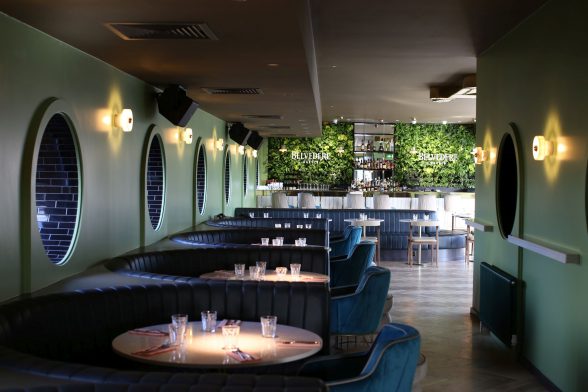 "We'll also be expanding with 31 new rooms being added to the hotel later this year, including the hotel's first twin rooms, increasing the bedroom capacity to 74 and opening the hotel up to new customer markets."
Babel will host a calendar of events throughout the year and will have resident DJs every Friday and Saturday night.
It will open daily from 12 pm until late with food served daily from 12 pm until 10 pm.
For more information, visit babelbelfast.com, follow Babel Belfast on Instagram or like Babel Belfast on Facebook.