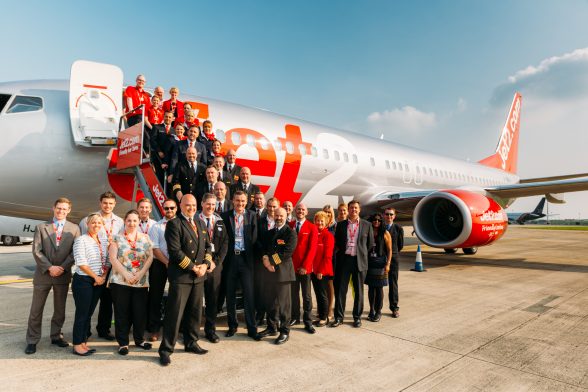 LATEST ATOL data published by the Civil Aviation Authority has revealed that Jet2holidays is now officially the second biggest tour operator in the UK.
The data shows that, for the second consecutive year, Jet2holidays is the stellar performer in the list.
In the 12 months to September 2018, the leading package holiday specialist is licenced to carry 2.94 million passengers, an increase of more than 660,000 passengers on the previous 12 months. No other operator comes close to that growth.
The announcement comes on the back of a momentous year for Jet2.com and Jet2holidays.
In March this year, the company launched its first flights and holidays from London Stansted and Birmingham Airports, and to date has now taken delivery of 16 of 34 brand new Boeing 737-800 aircraft, with the final aircraft to be delivered in January 2019.
In June, the company also launched Jet2Villas, a brand new proposition offering villa holidays with all the benefits of a package holiday.
The company has scooped a number of significant accolades in recent times and these repeat successes are no coincidence.
As Jet2holidays wraps everything up in one package, holidaymakers are given access to great value package breaks across thousands of 2-5 star hotels, with Jet2.com flights, industry leading 22kg baggage allowance and airport transfers included, through a £60 per person deposit.
Offering full ATOL protection, Jet2holidays includes free infant places.
With a UK based call centre, and the option to book online, over the phone or through travel agents, Jet2holidays customers also benefit from 24 hour in-resort service as well as a fantastic free resort flight-check in service in almost 200 hotels across seven destinations.
With friendly low fares offering fantastic value, award winning customer service, and great flight times, Jet2.com also offers 0% credit card fees and has been voted Top UK Airline and Best Low Cost Airline in Europe by TripAdvisor.
Steve Heapy, CEO of Jet2.com and Jet2holidays said: "This is great news for everyone associated with Jet2.com and Jet2holidays.
"There has been much written about the industry in recent times, but this goes to show what can be achieved through an unswerving focus on delivering the very best service for customers so that they enjoy a lovely holiday time and time again.
"With a committed team looking after our customers on their ATOL protected package holidays, and unique touches such as our free resort flight check-in service, we are looking ahead to the future with confidence."
For further information and to book, please visit: www.jet2.com or www.jet2holidays.com.