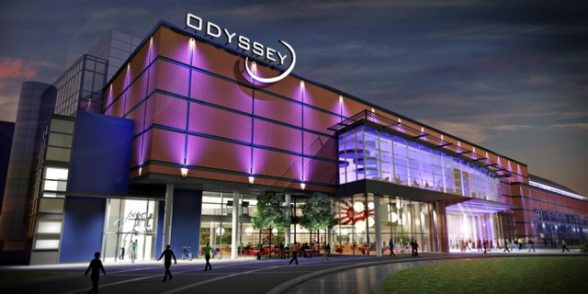 BELFAST'S Odyssey Pavilion is to undergo a £10 million refurbishment, following the submission of a new planning application, it was announced today.
The news comes on the back of planning permission this week for the first phase of redevelopment, which includes a new main entrance to the Odyssey Pavilion, upgrade of public realm and reconfiguration of the existing retail units.
Phase two of the redevelopment will see further significant improvements to the Pavilion including improved visitor access to all levels and the greater use of the central open space.
The scheme is estimated to cost £10 million and hundreds of jobs are expected to be created during the construction phase as well as many long-term jobs created in the new units.
Guy Hollis from the applicant, Matagorda 2 Ltd said,
"We are delighted to be able to rejuvenate the Odyssey Pavilion, bringing it back to being a key component of Belfast's leisure and entertainment offering.
"Our key objective is to improve the overall visual quality and tenant offering of the Pavilion, making it a more attractive and user friendly destination."
 "The scheme will help in the ongoing and successful regeneration of the Titanic Quarter and drive additional footfall to this part of the city."
Wendy Langham from The Odyssey Trust Company said,
"For some years , the Odyssey Pavilion has suffered from under investment in comparison to W5 and the SSE Arena.
"It is now very heartening to see the new owner make a strong long-term commitment to what is an extremely important asset for the people of Northern Ireland.
"The Odyssey Trust looks forward to this significant investment in the pavilion and the progression through planning to refurbishment."