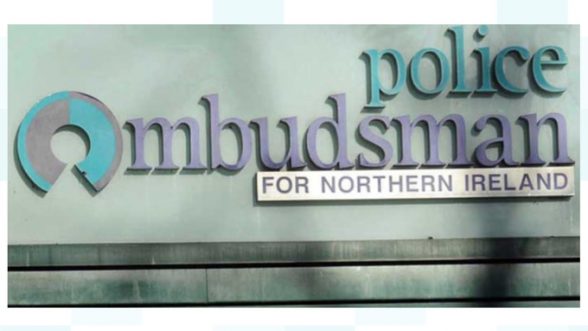 EXCLUSIVE: The Police Ombudsman's office has been accused of "dragging its heels" for failing to arrest a decorated police chief and four PSNI colleagues over allegations they perjured themselves during a court case.
Belfast Daily revealed in February this year that four constables and an inspector were facing possible arrest by Police Ombudsman NI (PONI) investigators over allegations they gave false evidence under oath during a civil action in October last year.
They are also being investigated over claims of perverting the course of justice relating to evidence presented in the case.
The Police Ombudsman's office confirmed to us that that they were investigating the perjury allegations.
In a statement, PONI told Belfast Daily at the time:  "We are investigating allegations that a number of police officers lied under oath during a civil court hearing in Belfast last year."
The officers declined to attend a PACE 10 voluntary interview with PONI investigators following legal advice.
PONI investigators have the power of arrest and can ask a judge to authorise an arrest warrant to bring the officers in for interview.
But now almost EIGHT MONTHS on PONI still have not arrested the officers – and it won't say why.
Belfast Daily asked the Police Ombudsman's office:
(1)  Have these officers now been interviewed voluntarily under PACE 10?
(2) If they have refused a PACE 10, why has PONI not arrested them?
A spokesperson for the Police Ombudsman's office would only say: "Our enquiries are ongoing."
The case centres on a student who is suing the PSNI for injuries he sustained in 2012 when he claimed he was struck on the leg by an armoured police landrover in the Oldpark district of north Belfast.
The father of the student told Belfast Daily: "It is now almost a year since these officers lied under oath in a Belfast courtroom and perjured themselves.
"Yet, the Police Ombudsman's Office still has not arrested them even though they have the powers to do so as they refused a voluntary PACE 10 interview.
"It just looks like the Police Ombudsman's Office is dragging heels in the case."
The civil case is to be reviewed in the High Court next week when PONI will be asked by a judge to indicate their intentions in the case towards the five TSG officers.
"The review has been waiting on PONI actions," said the father, who is a former RUC officer.
"We will see the whites of their eyes next week and hear what reason they will give the judge for not arresting these officers by now."
The complainant, who is now studying at Queen's University in Belfast, claimed he was struck by an armoured plated police landrover in September 2012 while walking home with friends in the Oldpark district.
The Police Ombudsman investigated the original incident and a sent a file to the PPS but the PPS decided not to prosecute the officers.
However, the young boy's father believes the incident by officers from a specialist Tactical Support Group (TSG) is linked to a 14-year campaign of "intimidation'' against him.
In a statement to Ombudsman investigators, his then 17-year-old son said he was walking home with friends on September 12, 2012 after a cross community group meeting when the drama unfolded.
"At around 11 pm I was standing with friends at the bottom of the Oldpark Road, north Belfast on the pavement when I saw a police Landrover approach from the Crumlin Road heading country wards.
"Without warning this police vehicle suddenly made a right turn onto the Oldpark Road and mounted the footpath heading straight for me and my friends.
"At first I froze, then I realised it wasn't going to stop so I turned around and began to run up the alleyway away from the speeding landrover.
"It continued to run at me and as I entered Shannon Court, which is at the end of the alleyway, I became aware that the vehicle was very close to me.
"As I tried to avoid it I believe either my leg or foot was struck by the landrover causing me to stumble forward.
"I thought at first it was going to crush me and I started to run again.
"I am not sure if I hit my knee on the ground or twisted on impact with the vehicle. It happened so fast but I felt a sharp tearing pain in my knee as I continued to try to avoid being run over.
"As I tried to go up another alleyway I became aware that police officers on foot were pursuing me and as I looked around I could see they had batons drawn.
"They quickly caught up with me and one of them pushed a baton into my back as I was pinned to a wall up the alleyway. At no time did I resist the police and would regard this as an assault with the baton.
"I was then brought back to the landrover and questioned about what myself and my friends were doing.  I replied I wasn't doing anything wrong.
"I heard one officer saying that I was almost killed and tried to blame that on me.
"After 10 minutes or so they told me to 'go away on' and I did and reported the incident to my dad. He attempted to talk to a senior officer but no one was available.
"My dad reported the incident to the Police Ombudsman the following day."
Two senior PONI investigators and its CSI team visited the scene to take pictures and casts of wheel marks at where the teenager said he was struck by the landrover.
A number of CCTV recordings were also recovered including one from a local petrol station where the boys had earlier bought sweets.
PONI investigators later took a statement from a witness who allegedly heard police talking about the incident.
He told investigators: "I heard one of the police officers saying to the other: 'F**k me. You nearly killed him there'."
The Ombudsman's office spoke to a total of five police officers who were in the Land Rover that night.
The front seat passenger – or 'observer' – was a PSNI Inspector who holds the Queen's Police Medal and the driver of the four tonne Landrover were interviewed under the Police and Criminal Evidence Act (PACE) by way of an Article 3 caution.
The PPS decided not to prosecute them and a third officer was reported to the PSNI's Professional Standards Department (PSD) for a number of disciplinary offences.
Following the incident, the victim went to the Royal Victoria Hospital and had his leg X-rayed by doctors before being referred to Musgrave Park Hospital for a full examination of the damage to his knee.
"I was told that I definitely had cartilage damage and there may be other internal damage too. I had to stop playing rugby as a result.
"Before this incident I and my friends had just come from the local filling station after buying sweets and were standing chatting. I have no idea why the Police acted the way they did."
His father and his legal team have been carrying out their own investigations into the incident.
His dad told Belfast Daily:  "Firstly, armoured land rovers are strictly forbidden to act as pursuit vehicles in all non-life threatening situations and I made this clear to the judge at the damages hearing. This was a breach by the driver at the time.
"Secondly, CCTV clearly shows the driver of the landrover mounting the footpath without just cause.
"Thirdly, in the driver's statement he said that my son begged, and I emphasise 'begged', for him not to inform his parents.
"Yet within minutes of the incident I am informed and I arrive at Tennent Street PSNI station after doing a search for the TSG unit.
"Police at Tennent Street and BRC (Belfast Regional Control) both requested any TSG unit that had dealings with my son within the last hour to respond.
"After three attempts via RT (radio transmission) that unit failed to reply.
"I was informed by a serving officer that the attack on my son was the direct result of a group of rogue officers who had taken it upon themselves to attack both myself and family members.
"Number 4 TSG based at Castlereagh were involved but a local officer on board, I believe, targeted my son to the landrover crew.
"He was there because TSG had limited knowledge of the area."
The student is now appealing the judge's decision to dismiss his action for damages.