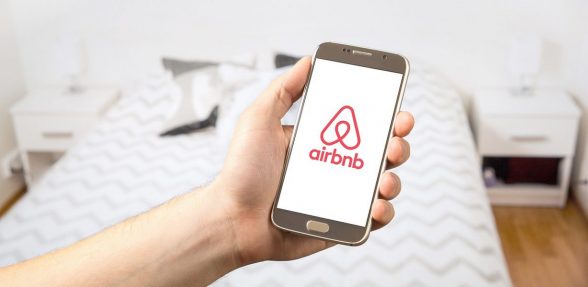 BY TIM HEDGLEY, GROUP TRAVEL EDITOR
THE beaches of Cornwall, the backstreets of London, the hills of the Lake District: the UK has long been celebrated as a tourist destination, but in the age of the sharing economy, the way we travel is changing.
Flexibility, affordability and local connections are becoming more and more important, and this is having a profound economic impact on the UK. Whether it's to earn extra income, impart insider knowledge or simply meet new friends, people are increasingly recognising the benefits of sharing their home.
With that comes a new income stream for households, increased spending in local communities and a more affordable way for visitors to travel in the UK.
Between July 2016 and July 2017, hosts and guests using Airbnb contributed an estimated £3.46 billion to the UK's economy, with 5.9 million inbound guests travelling on the platform over this period.
Travel on Airbnb has helped boost local tourism, while encouraging exploration of familiar and lesser- known destinations across the UK.
Airbnbers in the United Kingdom have been welcoming guests into their homes since 2009.
The following is a data capture of the activity of the Airbnb community in the UK over a year-long period from 1 July 2016 to 1 July 2017.
Activity on Airbnb is spread across the UK, with residents from close to 2,500 villages, towns and cities – a total of 168,000 listings – welcoming 5.9 million guests in the last year.
These visitors are looking to travel in a different way, giving locals, and their communities, an economic boost.
The number of UK residents travelling on Airbnb is also on the up: 64 percent more people are using the platform compared to a year ago. Residents are able to travel within the UK, and explore new and lesser-known destinations, thanks to the variety of unique and fl
exible accommodation.
What does an Airbnb Host Profile look like?
In recent years the concept of the sharing economy has gained momentum – staying with a host is now a far more accessible and widely trusted form of accommodation.
Hosts on Airbnb range from students to retirees, however the average age of a host in the UK is 43, with women hosting more than men (62 percent to 38 percent).
The platform provides an easy and flexible source of income – a typical host in the UK earns £3,000 a year from their Airbnb listing, while senior hosts use the platform to earn a supplementary income while out of full-time employment. It also helps many hosts afford their homes: four percent say the platform is used as a means of preventing foreclosure and eviction.
The average host has lived in their hometown for 22 years, and with that comes decades of local knowledge that enhances the guest experience.
Hosts are local champions, and encourage guests to see local sites, eat in local restaurants and make a local connection. Via the platform, hosts on Airbnb have the opportunity to put their home town on a global map.
While some hosts on Airbnb manage their listings, for additional convenience, some hosts choose to list their home via a property manager.
This company/person will act as a host to the guests, handling communication and check in, and ensuring that they are looked after throughout their stay. Boutique hotels and traditional bed and breakfasts are also using Airbnb to increase the visibility of their space and welcome more guests.
NORTHERN IRELAND
Northern Ireland represented the UK's fastest growing Airbnb visitor destination, with 132,000 guests contributing to a 144 percent growth rate compared to last year according to the Airbnb annual report.
Whether they were staying in country cottages or big family homes, guests travelling on Airbnb immersed themselves in local communities, and gave an estimated £46 million boost to the region's economy.
NORN IRELAND FACTS
Air BNB Rental Map

35 Nights hosted per year for a typical listing

2,600 Active listings
132,000 Guests
£7M Income earned by local households
£2,700 Annual earnings for a typical host
144% Inbound guest growth in the past year
£46M Estimated guest spending
£53M Estimated economic activity generated by Airbnb hosts and guests
In Northern Ireland:
10 percent of bookings were with senior hosts
16 percent of bookings were families wanting to visit Northern Ireland
31 percent of users from Northern Ireland used Airbnb to travel around the U
Sustainability
Airbnb was founded during the recession, at a time when people were looking to do more with less.
Various factors have since led to the platform's growth, but a key driver is the interest in home sharing as a sustainable option for travel. In fact, 72 percent of guests (69 percent in the UK) say that the environmental benefits of home sharing were considered when they decided to use the platform. Responsible home sharing is much more resource efficient and environmentally friendly than traditional accommodation as it allows unused space to be maximised.
Additionally, the desire to travel – often from millennials in the US and UK who rank travel as more important than buying a home2 – has helped the concept of a sharing and collaborative economy gain momentum, encouraging interest in more-sustainable platforms including Airbnb. Among European consumers, 52 percent say they take part in the collaborative economy because it's good for the environment3.
Staying in listings on Airbnb has also been recognised as a greener way to travel.
Based on the model provided by Cleantech Group in 20144, updated figures show that by choosing Airbnb instead of hotels, guests in the UK contributed to
energy savings equivalent to: 75,000 homes,
water reduction equivalent to 1,200 Olympic-size swimming pools,
reduced greenhouse gas emissions that were the equivalent to 217,000 cars
waste reduction of up to 10,800 tons5.
Airbnb is committed to ensuring that travel is sustainable, and so in June 2017 a Sustainability Advisory Board was launched to aid this.
Led by a team of independent experts, the board will shape and refine Airbnb's long- term sustainability vision, and help develop crucial environmental partnerships and initiatives.
For a full copy of the report click here:
https://p38z32mnch359nna357msktk-wpengine.netdna-ssl.com/wp-content/uploads/sites/48/2017/09/Airbnb-UK-Insights-Report_Final_Digital_v3.pdf