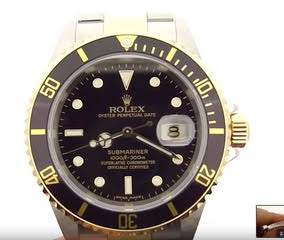 A Co Antrim man says he is "gutted" after losing his pride and joy Rolex watch worth around £10,000.
The Rolex Sub Mariner with a Gold and Black dial and Stainless steel and 18K Yellow Gold Oyster Bracelet was a "prized possession".  
The stunning Men's Watch was only a couple of years old and appears to have fallen from his wrist whilst touring the north coast near Glenarm last week.
The gentleman from Carrickfergus explained "I remember having it on Monday night at the Omniplex in Larne and then when getting into bed on Tuesday night I noticed it was missing.
"Needless to say I'm gutted that I have lost it.
"Not only was it a timepiece but it was also an investment as the watch has increased in value this year by about £1000.00
"The watch is a stunning example of the Rolex Sub-mariner range.

"The serial and model number has been reported to the police. In the event someone hands it in."
A YouTube movie of a similar watch can bee seen at:
https://www.youtube.com/watch?v=4-F-wX5DoV8