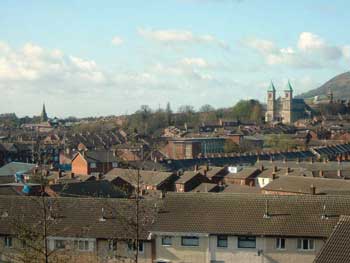 A combination of cuts and complacency has put Northern Ireland on course for a homelessness crisis, a coalition of charitable and voluntary groups said today.
The warning follows a £3 million reduction in annual funding for Supporting People schemes and comes as the Northern Ireland Housing Bulletin January – March 2017, published today (Tuesday 8th August), showed a near 40% increase in households presenting as homelessness in the last three months.
Each year, the Supporting People programme assists more than 20,000 people in Northern Ireland to live independently and avoid problems that can result in hospitalisation, institutional care or homelessness.
Ricky Rowledge, co-Chair of Committee Representing Independent Supporting People Providers (CRISPP) said:
"The latest shocking figures highlight the acute scale of homelessness in Northern Ireland, but without adequately funded services this figure will only increase in the weeks and months ahead.
"Fresh cuts to the Supporting People Programme could not have come at a worse time as many service providers struggle with increasing costs and dwindling resources. There is a very real danger that those people in most need will not receive adequate support or may lose out entirely.
"If the Northern Ireland Housing Executive is serious about ending homelessness, it must reinstate the funding immediately and work in partnership with delivery agents to agree a sensible reform and strategy for Supporting People.
"We support the Homelessness Strategy for Northern Ireland 2017-2022, but without proper resourcing it is effectively undeliverable"
Jim Dennison, Chief Executive of Simon Community Northern Ireland said:
"To make funding cuts at a time of unprecedented demand for homelessness services is extremely ill-advised.
"The upsurge of homelessness by nearly 40% is not surprising – we've been bracing ourselves for it for some time. And that trend is set to continue.
"Further cuts will mean that service provision will simply not meet demand. We are looking at more and more people living on the streets if the cuts continue."
The Supporting People's core budget has been frozen for 10 years, a 'real terms' cut of over 20%, and charitable and voluntary organisations fear many services will close in light of the new reduction.
More than 100 organisations are affected by the cut to the Supporting People programme including:
Alpha Housing (NI) Limited, Apex Housing Association, Barnardos, Choice Housing , Depaul Northern Ireland, East Belfast Mission, Extern Northern Ireland, Inspire Wellbeing, Leonard Cheshire Disability, MACS Supporting Young People, Mencap, Shelter (NI) Ltd., Simon Community  First Housing and Women's Aid.