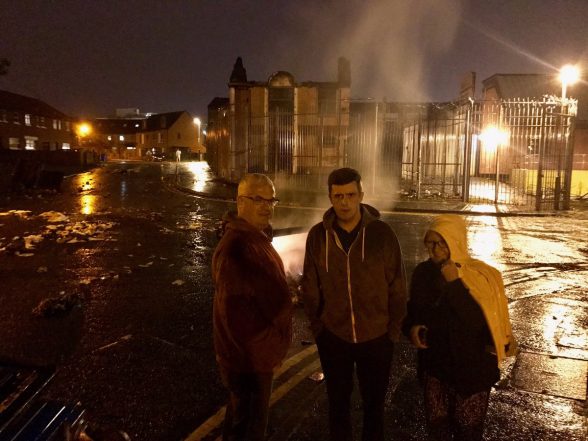 POLICE have called for calm after a night of violence across Belfast in nationalist areas of the city.
The trouble flared in the Market area on Monday afternoon and later spread to the Divis neighbourhood on the other side of the city.
In message on Twitter, the PSNI tweeted: "Police urge for calm to remain after dealing with some localised disorder in Belfast tonight incl blaze at disused building in Divis.
"Thanks to all those in affected communities who helped settle tensions. People living there do not want this type of behaviour."
SDLP vice chair Gerard McDonald last night posted a picture of the Credit Union building attacked off Divis street with the message: "What happened tonight was just disgusting- my neighbours work hard for a peaceful lower falls those who wrecked that tonight won't win."
The removal of wood from a Markets bonfire site by council-hired contractors is understood to have been the trigger for the disorder.
Tensions have been raised in some loyalist and nationalist areas in Belfast this summer amid efforts by the council to take action against a number of unregulated fires.
Bonfires will be lit in some nationalist/republican areas on Tuesday night to mark the anniversary of the introduction of the controversial state policy of internment without trial.
Masked youths ran amok in the Markets, which is close to the city centre, after the council operation to remove the wood early on Monday morning.
The disturbances saw officers targeted with petrol bombs, bricks and bottles while a number of cars were destroyed. Many were owned by commuters.
The incidents centred in the Stewart Street and Friendly Street areas of the predominantly nationalist neighbourhood.
The shells of three burned-out cars were still on Stewart Street on Tuesday morning, with commuters continuing to park on the street despite the visible signs of violence.
The trouble in the Divis area of the Lower Falls Road centred on the Ross Road area. A derelict credit union building was set alight during the disturbances.
Police thanked those involved in helping to restore calm after the violent incidents across the city.
Shortly after midnight, PSNI Chief Inspector David Moore was quoted as saying: "Police are urging for calm to remain after dealing with some localised disorder caused by a small group of people across Belfast tonight.
"Officers dealt with incidents of violence in the Markets, New Lodge and North Queen Street areas and also assisted the Northern Ireland Fire and Rescue Service at the scene of a blaze at a disused building in the Divis area of Lower Falls.
"We worked with local representatives and members of the community to successfully deal with these situations and I'm pleased to report that calm has now been restored.
"I'd like to thank everyone involved in helping to settle tensions. It has been made very clear to me that this type of behaviour is not wanted by people living in these communities."