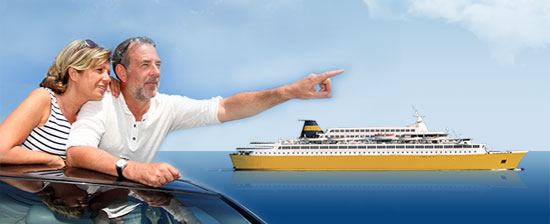 BY TIM HEDGLEY, GROUP TRAVEL EDITOR
Disappointed with our summer weather again!!  I was hoping for a sunny August to enjoy our holidays at home, but so far it has been awful – rain, high winds, chilly.
Do not fear however, AFerry.co.uk still has plenty of special offers and great deals, so you can head towards the sunnier climes in Europe and beyond (PLUS there are no nasty airport queues to worry about).
As the world's leading ferry comparison and booking site, AFerry has the widest choice of destinations and crossings, the best prices and the easiest booking facility, whether you are booking viayour laptop, app or mobile.
The regular rates are more than good, so with the offers on top you will find unbeatable prices to France, Spain and Holland.  There is also plenty of availability even if you have to mix and match the routes you take in and out of the country.
So just a few examples of fab deals available today.
With DFDS Dover to Dunkirk is from ONLY £39 o/w for a car and up to 9 passengers.  With 24 sailings daily and a quick 2 hour crossing what could be better value.  Or the DFDS Newhaven – Dieppe crossing- from just £77 o/w for a car and 2 passengers.  This offer is available until 6th November but book now as the offer can be withdrawn at any time.
As for a more northerly crossing, to Hook of Holland from Harwich with Stena Line – there is plenty of availability this August, especially on day sailings.  For the latest special offers on this route check www.aferry.co.uk Special Offers section.
Also to Holland P&O have a magic price from just £84.50 o/w per person on Hull – Zeebrugge including the car and the en suite cabin.
So whether you are thinking of southern or northern Europe start your holiday in style with AFerry.co.uk.
Don't forget that if you are heading for the Greek Islands, North Africa or the Mediterranean, you can compare and book all your ferry requirements with AFerry.co.uk too!
Ireland has some good deals too if you would prefer to head west!
Kids go Free all summer with Irish Ferries on all their routes, as they do with Stena on the Irish Sea crossings and with P&O on the Cairnryan- Larne route.
As the late bookings are pouring in and you are left in the UK never fear … a day trip with Hover travel to the Isle of Wight on a Monday, Tuesday or Wednesday is only £10 per person return.  Just book by 21st August and travel by 23rd August.
With AFerry.co.uk all these offers are in one place so you can compare and book so easily.  Have a good summer wherever you go – just go there through AFerry.co.uk!
AFerry.co.uk is the world's leading online ferry brand, which features real-time comparison technology for ferries, generating over 55 million unique visitors per year and over 3,000 bookings per day.
Founded in 1997, AFerry.co.uk has been an industry leader for nearly two decades and has strong relationships with ferry companies from across the globe.
Not only can AFerry.co.uk service all your UK ferry needs, but this handy site covers European, Asian and American routes too – over 2,000 routes around the world from over 150 ferry companies.
With apps for iPhone and Android, and a website optimised for mobile, tablet and desktop devices you can compare and book ferries from wherever you are with ease.