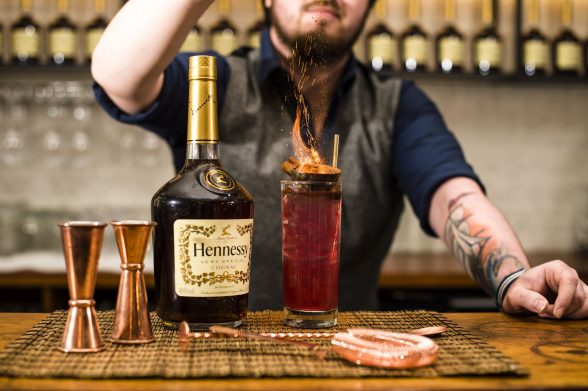 TEN Northern Ireland bartenders have been named as finalists of this year's prestigious Hennessy Connoisseurs Challenge and will go head-to-head this summer for a once in a lifetime, career-enhancing training opportunity.
The Hennessy Connoisseurs Challenge, now in its third year, invites local bartenders to put their mixology talents to the test and undergo a set of cocktail challenges in front of a panel of experts for the chance to win a training scholarship with the world's most iconic cognac brand.
The 10 finalists for the 2017 Hennessy Connoisseurs Challenge are:
Adam Duff, Tipsy Bird, Belfast
Arminas Dambrauskas, Deanes Restaurant, Belfast
Emer Kennedy, APOC, Belfast
Jefferson Minglanilla, Cyprus Avenue, Belfast
Joshua Black, Courthouse Bar, Lurgan
Mark McConville, House of Zen, Belfast
Michael Young, The Vault, Banbridge
Nathan Evans, Mary's Bar, Magherafelt
Ryan O'Kane, The National Grande Café, Belfast
Stephen Downie, The Merchant Hotel, Belfast
The 10 finalists will now go forward to battle it out at a grand finale for the chance to be named one of three Hennessy Connoisseurs.
The international judging panel includes Vincent Borjon-Prive from Hennessy, Roisin Stimpson from London's award-winning, Nightjar and Oriole Bars, Aaron Wall from London Cocktail Club and NI restaurant critic, Joris Minne.
The 10 finalists will be invited to take part in an interactive workshop where they will engage with the judges.
Aaron will take the finalists through his philosophy on the industry, which forms the basis of the innovative training platform he's created for London Cocktail Club.
During the workshop Roisin will provide helpful hints and tips around 'theatre and emotional engagement in cocktails'.
The panel of esteemed judges will put the bartenders through their paces, assessing them on a signature Hennessy cocktail, as well as their skill and product knowledge at a live final at The Muddlers Club in Belfast on Monday 21st August.
The winning Connoisseurs will receive an incredible prize package that includes a VIP all expenses paid trip to Cognac to visit Maison Hennessy and Chateau Bagnolet, where they will receive one-on-one training and a tasting with Hennessy's master blender.
The winners will also have their signature drinks showcased on Hennessy's digital platforms.
Commenting on the Hennessy Connoisseurs Challenge, Laura Shiels, brand manager at Dillon Bass, said: "We are pleased to bring this competition back for its third year and offer more local bartenders the opportunity to win this prestigious, career enhancing scholarship."
 "Northern Ireland is a vibrant, up and coming location with a plethora of talented mixologists and we want to showcase and reward these talents. Large cities like London get most of the praise when it comes to this industry, but the Hennessy Connoisseurs Challenge demonstrates the passion, skill and enthusiasm that Northern Irish bartenders have for their craft."
"Even after three years, bartenders are still surprising us with their product knowledge and imagination. The standard has been unwavering year on year, and the level of creativity is outstanding."
Share your Hennessy NI stories on Facebook and Twitter using the hashtag, #HennessyNI