A FORMER Royal Marine from County Antrim who made bombs for dissident republicans has been jailed today for 18 years.
Ciarán Maxwell, from Larne, admitted a series of terror charges ahead of a pre-sentence hearing that began last Wednesday.
Mr Justice Sweeney told the Old Bailey sentencing hearing this afternoon that Maxwell was a "very dangerous individual who enjoyed his craft in making bombs" for dissident republicans.
After his arrest last year, police found 43 weapons hides.
Maxwell joined 40 Royal Marince Commando in 2010 when he started collecting materials and making bombs for the Continuity IRA.
On Friday, the court heard that Maxwell faked his support for the dissident republicans' cause as he was "frozen" with fear, and that he believes old connections now wish him and his family serious ill.
The 31-year-old was arrested last year after two dissident republican arms dumps were found near Larne.
Maxwell grew up as a Catholic in the County Antrim town and later moved to England, having enlisted in the Royal Marines in 2010.
He lived in Exminster in Devon, and was based with 40 Commando in Taunton, Somerset. He never served in Northern Ireland.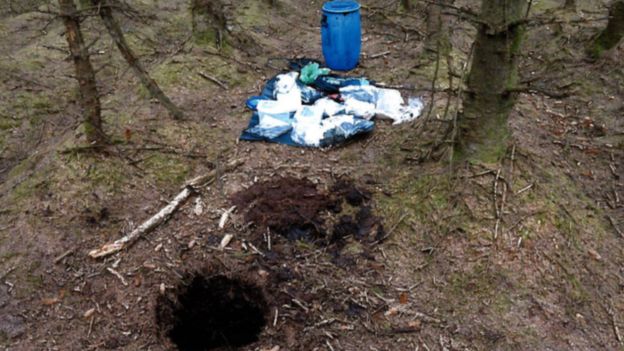 The court was told that four of the 14 pipe bombs he made were used in attacks in Northern Ireland.
Other weapons found in the hides included anti-personnel mines, mortars, ammunition and bomb-making materials.
The former Marine has not been in court, but has appeared by video link from Woodhill Prison in Milton Keynes.
Considering the evidence on Friday – the third day of the hearing – the judge said the most important parts of any terrorist organisation were the "command structure and engineering department".
He described Maxwell's actions as a "prolific production by part of the engineering department, if not the engineering department" of the Continuity IRA.