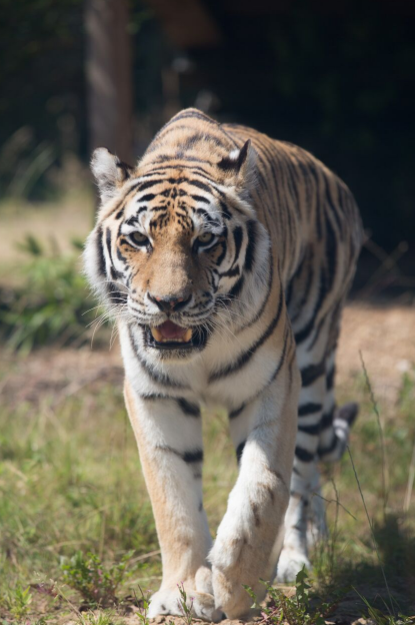 TAYTO PARK, Ireland's only theme park and zoo will be celebrating International Tiger Day this weekend with a host of fun and exciting activities for everyone.
This will includeg tiger enrichment workshops, talks with Tayto Park keepers, tiger feeding and special raffle prizes with all donations going directly to ALTA (Amur Leopard and Tiger Alliance).
Tayto Park, located in Ashbourne Co. Meath, is home to two Amur tigers called Gara and Kahn who arrived in 2013 and since then have proved very popular with all visitors to the park.
Raymond Coyle, founder of Tayto Park commented: "We're very excited about International Tiger Day as it's a great chance for visitors to the park to learn more about two of our most beloved animals, Gara and Kahn.
"We're committed to conservation and to raising as much money as we can for ALTA (Amur Leopard and Tiger Alliance) particularly because Amur Tigers are endangered with only 500 remaining in the wild.
"There will be something for everyone this Saturday from tiger balloon making and face painting for little ones to quizzes and a fun pop-up shop which everyone can enjoy.
"We think it's crucial for everyone to learn about the preservation of wildlife and we'd like to increase visitor's knowledge as well as make sure that they have lots of fun in the process!" Raymond added.
For a full list of events on the day visit www.taytopark.ie/events/international-tiger-day-1.
Tayto Park is home to a range of rides and attractions for all ages, as well as its own on-site zoo which hosts an exceptional and diverse animal collection.
Popular rides include the gravity-defying Rotator, the Power Surge and The Cú Chulainn Coaster, Ireland's first rollercoaster and Europe's First wooden rollercoaster with an inversion.
The Park also invested heavily in two new attractions which opened this summer, the Viking Voyage at the Park water flume ride and the World of Raptors birds of prey demonstration.
With easy access from Northern Ireland and free parking for cars and buses, Tayto Park caters to a wide range of sectors including families, couples, schools, birthday parties, corporate events and even weddings.
Tickets for Tayto Park start from €15 per person with discounts available when booking online.
To find out more go to www.taytopark.ie, call 01 835 1999 or follow on twitter @taytopark or Facebook.