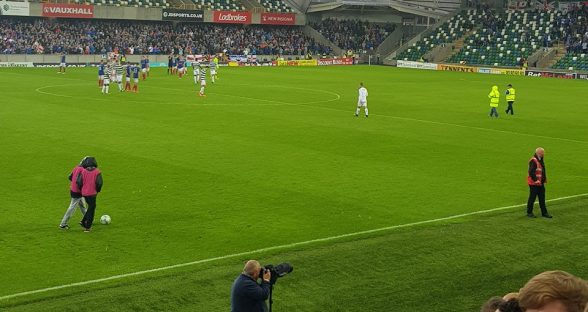 CELTIC  striker Leigh Griffiths has been charged by UEFA with 'provoking spectators' after their match against Linfield last Friday night.
The Scotland international has been cited after he tied a scarf to a goalpost at Windsor Park during the 2-0 win.
The Scottish Premiership champions and Linfield have been been charged on two separate accounts, with Linfield facing punishment for throwing of objects and field invasion by supporters.
Celtic have also been reprimanded for improper conduct after five players picked up yellow cards during the match.
Linfield have promised a full investigation into the activities of a minority of fans who threw a bottle and coins at Celtic players.
At one point Linfield chairman Roy McGiven went into the section of the stand to remonstrate with those morons behind the throwing of the missiles but his pleas for an end fell on deaf ears.
If identified, they face sanctions from the clubs, including life bans from the ground.
The south Belfast club said in a statement: "Linfield FC would like to commend our players and staff on a determined performance in tonight's UEFA Champions League qualifying match against Celtic FC.
"The match was played in a very good spirit and both teams played their part in delivering a highly competitive sporting occasion.
"We were pleased that the majority of fans fully respected and heeded the advice we had given them ahead of the game and we commend the Linfield fans who got fully behind the team and produced a great atmosphere in the stadium.
"The operational plan to manage Celtic fans who purchased tickets against their club's wishes also worked very well.
"The club will be reviewing our own footage and investigating an incident that took place during the match where a number of objects were thrown on to the pitch.
"We are obviously very disappointed that a small number of people chose not to respect the club's wishes.
"Linfield FC strongly condemns these actions and will be taking all necessary steps to identify any individual who was engaged in this activity.
"The club takes the safety of fans, players and officials extremely seriously and there will be serious and lasting consequences for anyone involved."