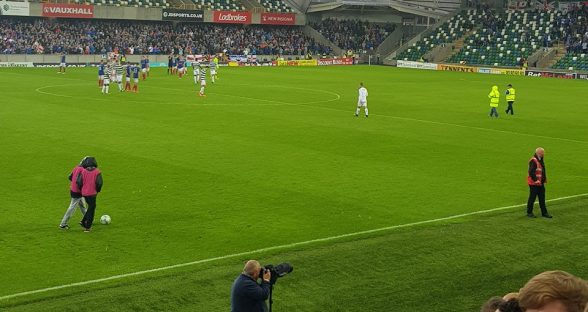 LINFIELD Football Club is promising a full investigation into a minority of incidents when missiles were thrown onto the pitch during yesterday evening's Champions League game at Windsor Park.
Celtic ran out 2-0 winners but hosts Linfield gave a good account of themselves on the pitch.
And they had to thank 40-year-old shot stopper Roy Carroll for keeping the scoreline down to just two goals after pulling off several top drawer saves.
Off the pitch, a few morons who claimed to Linfield supporters let down the players, the club and other fans by throwing missiles onto the pitch.
At one point, Linfield chairman Roy McGivern went to the area where the missiles were being thrown from to remonstrate with the morons.
The fallout from these minor incidents will be a UEFA investigation.
And the outcome could be a hefty fine for Linfield and the club could also be forced to play future European games behind closed doors, depriving true Blues fans of the chance to watch more Champions League or Europa League ties.
In a statement, the club said: "Linfield FC would like to commend our players and staff on a determined performance in tonight's UEFA Champions League qualifying match against Celtic FC.
"The match was played in a very good spirit and both teams played their part in delivering a highly competitive sporting occasion.
"We were pleased that the majority of fans fully respected and heeded the advice we had given them ahead of the game and we commend the Linfield fans who got fully behind the team and produced a great atmosphere in the stadium.
"The operational plan to manage Celtic fans who purchased tickets against their club's wishes also worked very well.
"The club will be reviewing our own footage and investigating an incident that took place during the match where a number of objects were thrown on to the pitch.
"We are obviously very disappointed that a small number of people chose not to respect the club's wishes.
"Linfield FC strongly condemns these actions and will be taking all necessary steps to identify any individual who was engaged in this activity.
"The club takes the safety of fans, players and officials extremely seriously and there will be serious and lasting consequences for anyone involved."