NOW that the weather has picked up and we can actually see some blue sky it reminds me that our Caribbean Correspondent has a few more tales from Tobago.
Grace visited Tobago at the end of May 2017.
Tobago has it all, miles of sandy beaches, crystal clear water, tropical sunshine and blue skies.
The slower pace of life and the friendliness of the locals are intoxicating.
From the simplest beach bar to the trendiest restaurant, fresh seafood is always on the menu and these are some of my favourite places for delicious food.
In Scarborough you'll find the wonderful Blue Crab Restaurant on Robinson Street near the Tobago Museum www.tobagobluecrab.com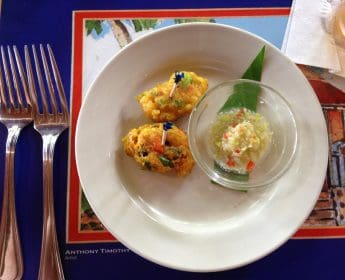 Best crab cakes? The Fish Pot at Grafton.
Best Bake n Shark? Tradition Bar and Grill at Pigeon Point
The best Coocoo Callaloo Chicken? Sylvia's Food Shop Store Bay Beach
But apart from the stunning beaches and the mouth watering food I discovered there is much much more to explore and discover on this beautiful Caribbean island see the Tobago tourism website for ideas www.tobagostyle.travel
From Rainforest tours and Safari Jeep Tours to bird watching or hiking to the waterfalls at Castara and Argyle you'll find something to coax you from your Caribbean couch on the beach.
How about an Island Girl Catamaran Cruise from the Mount Irvine Beach www.sailtobago.com or a tour of the Buccoo Reef and Nylon Pool where it's said the water has magical properties to restore youthful good looks!
If you want to explore the night life why not pay a visit to the weekly Sunday School street party in Buccoo with live steel pan music, tempting local food stalls and DJs to keep you dancing until dawn.
For something completely different try the stand up paddle boarding Bioluminesence Night Tour with www.radicalsportstobago.com
This two hour adventure lets you see the mysterious glowing plankton in the waters of Tobago and believe me it's a very special experience.
Healing with Horses
If, like me, your idea of the perfect holiday activity is one that involves horses then you won't be disappointed with the trail –swim combination available through the HWH Foundation.
The experience of meeting the horses is surprisingly emotional. Calling out a horses name and waiting to see if they choose to leave their stall to meet you is rather unnerving.
Will he? Won't he? Will I be the one who doesn't get picked? It's all down to the horse but what if he doesn't like me?
And then it happens, a few steps, a twitch of an ear and slowly a beautiful long neck extends and the softest breath puffs across your out stretched hand and you connect.
This is everything.
Once on horseback it's a gentle orderly stroll through Buccoo Village.
Slowly threading your way through the mangroves the trail leads you to a golden beach stretching to the end of Buccoo Bay.
At this point it's time to swim with the horses and how they love the water!
If you've never been swimming with horses I can tell you it's wonderful and guaranteed to make you smile.
Back to the yard and the horses are hosed down to rinse the salt from their coats, you don't want this to end, how special is that?
The HWH Foundation offers Equine Nature Therapy to differently abled adults and children from Trinidad and Tobago free of charge,
TOBAGO FACTS
Castara Retreats, Tobago – 7 nights self-catering, to include return flights with Virgin Atlantic from London Gatwick and two adults sharing "Firefly" apartment from £785 per person
Blue Waters Inn, Tobago – 7 nights bed and breakfast accommodation to include return flights with Virgin Atlantic from London Gatwick and two adults sharing a Beachfront Room from £928 per person
Mount Irvine, Tobago – 7 nights Room only accommodation to include return Economy flights with Virgin Atlantic from London Gatwick and two adults sharing a Standard Garden Cottage from £775 person.