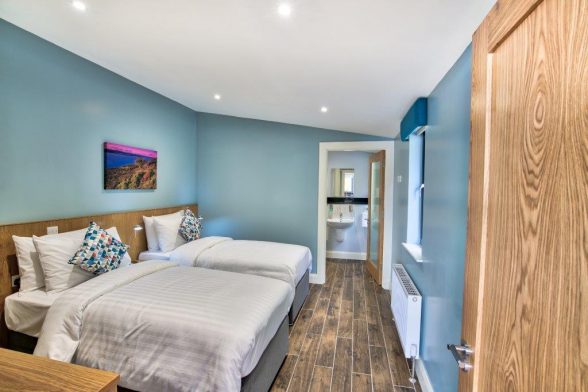 ENJOY the luxury of a Staycation at the 4-star Killyhevlin Lakeside Hotel in Enniskillen. Nestled within the stunning Fermanagh Lakelands you will find the hotel's newest investment – fourteen brand new Lakeside Lodges.
The one-of-a-kind two bedroom lodges, situated on the beautiful banks of Lough Erne are complimented by stunning panoramic views and offer guests a perfect setting to enjoy a great holiday or short break.
Staycations are a unique style of holiday 'on the up' in Northern Ireland as they give families, couples or larger groups the opportunity to experience a relaxing break without the stress of travelling too far from home.
According to the Northern Ireland Statistics and Research Agency there has been an upward trend in expenditure on overnight stays in NI by residents from Northern Ireland between 2011 and 2016* and during 2016 £237million was spent on domestic trips within NI.
Jacqueline Wright, Director of Killyhevlin Lakeside Hotel said, "Staycations are becoming extremely popular and we believe our new Lakeside Lodges are in the perfect location offering stunning scenery and a relaxed atmosphere."
"We encourage families to opt against holidays abroad and experience a staycation here at Killyhevlin Lakeside Lodges – you won't be disappointed!"
Jacqueline concluded: "Our luxury lodges have only the best facilities, with fully modernised kitchens, dining and living areas, Wi-Fi, ensuite bathrooms and private outdoor decking areas.
"However, it doesn't end there; all guests can also access the delicious eateries within the Killyhevlin Lakeside Hotel as well as our Health Club & tranquil Kalm Spa, perfect for an indulgent afternoon."
Killyhevlin Lakeside Lodges are situated 1km from Enniskillen town, making them the perfect base from which to explore all that County Fermanagh has to offer.
To book your staycation please contact the reservations team at Killyhevlin Lakeside Hotel at www.killyhevlin.com or call +44(0) 28 6632 3481. Prices start from £795 per week.
Find out more at www.facebook.com/Killyhevlin and on twitter @killyhevlin
*NI stats are from Northern Ireland Statistics & Research Agency (NISRA)