TAYTO PARK, Ireland's only theme park and zoo, today opened its new Viking Voyage at The Park attraction, which features the country's largest water ride.
Construction on the ride, which cost €8 million to complete, began last July with over 50 builders and engineers working on the attraction every day at the Park in Ashbourne, County Meath.
To create a truly authentic experience, Tayto Park employed Viking experts from Sweden and theming contractors who have worked in Disneyland and on Game of Thrones, to develop the project.
The ride takes guests on a journey from an ancient Viking town to Celtic Ireland and delves into true Viking history with replica ring forts, round towers and a monastery.
The centerpiece of the ride is a 60ft mountain and over 500 trees have been planted around it to recreate the Irish landscape from 1,000 years ago. The super flume track is 700m in length and takes 5 minutes to complete with the ride reaching speeds of 60kph.
The attraction is completely bespoke, combining several features including two forward water chutes and one reverse chute, providing a unique surprise for the passengers.
1.7m litres of water, 5000 bundles of straw, over 10,000 tonnes of concrete and 500 tonnes of steel
Construction team used Viking building methods including wattle fencing, Viking ships, currachs and
   thatch built in the methods from 1,000 years ago.
Make your way through a full Viking village complete with 6 replica Viking ships through the ride
There are 3 drops in total and the largest is 12 metres and one is a backwards drop
There are 12 Viking boats on the ride at any one time with six people per boat
The ride will take 720 people per hour
Tayto Park founder Raymond Coyle was on hand to officially open the water ride.
''Tayto Park is all about wowing our guests and our mission is to continue to entertain and to bring bespoke attractions to the Irish market," he said. "The Viking Voyage at The Park is a great addition and will enhance the overall family fun experience at Tayto Park. Our aim is to make a day out in Tayto Park a memorable one for all of our guests, young and old."
The Viking Voyage at The Park was designed and manufactured by industry ride specialist Interlink, who also produced the Viking themed storyboard for the ride. Commercial Director of Interlink, John Davies said: "We are extremely excited and proud that Tayto Park chose a "world-first" ride and we expect a lot of interest after its launch."
Tayto Park opened for its seventh season last April and The Viking Voyage at the Park is now open to the public. For more information and opening times, please visit www.taytopark.ie.
I OWE AN APOOLOGY TO TAYTO PARK
I'll be honest I always thought that Tayto Park was a two-bit operation trying to mimic a Florida or English based theme park. After spending a day there today, I have to apologise.
Tayto Park is an outstanding creation of world-class rides in the most wonderful location, just every bit as good as BUSCH GARDENS in Tampa Florida this amazing park is only an hour and a half from Belfast.
TAYTO theme park should be on every "Northerners Radar".
This is a truly fantastic park, and exceptionally well priced and it's a credit to Mr Raymond Coyle, and his team.
The Cú Chulainn Coaster
Ireland's First rollercoaster and Europe's largest wooden rollercoaster with an inversion, opened on June 5th 2015. Ground was broken on the project on 10th of August 2014 and construction commenced on the 1st September 2014. With a strong focus on mythological Irish history, the rollercoaster has been named after one of the great eternal hero's of Irish history, Cú Chulainn. With the figure of the great Irish warrior emblazoned across the front of the Tayto Park rollercoaster Cú Chulainn's role in Irish history will be front of mind for everyone who rides the coaster this Summer in Tayto Park.
THE ROTATOR
Loc
ated in the EAGLE SKY ADVENTURE ZONE you had better hold tight and be prepared to defy gravity when you get strapped into this awe-inspiring ride.
You'll soar 31 meters in the sky and revolve 360°.
Are you brave enough?
Top Tip
Do it before lunch
What was missing at the park?
Tayto Park has everything you would expect from a quality theme park but there are some things missing!
Yes what's missing from this park is really poor food for the children, overpriced cuddly toys and presents in the gift shop, poorly staffed food concessions serving rubbish food and charging a fortune for overpriced drinks.
Tayto Park has a wonderful selection of food on offer, beautifully prepared, cooked and served in outstanding facilities, you would be forgiven for thinking you were in a 5 Star hotel.
Prices were outstanding for such a venture too and where you would expect to be ripped off for the soft drinks and Ice creams there was no robbery hear, curry chip was a mouth watering €3-50, soft drinks €2-00 and water €1.50
DISCOVER THE ZOO
Tayto Park offers an exceptional and diverse animal collection which features many conservation dependent species. Our zoo is home to a variety of taxa, from the largest of the big cats, the Amur tiger, to the illusive and stunning Ocelot. The zoo also has a growing primate collection which includes Squirrel monkey, Red-bellied tamarins and our newest arrivals the Geoldi's monkey . Discover our selection of beautiful and colourful birds from around the globe and make sure not to miss our marvellous meerkats!
Connecting people to wildlife through adventure, conservation & education.
The mission of Tayto Park is dedicated to creating adventure, passing on knowledge, conserving nature, and serving our community.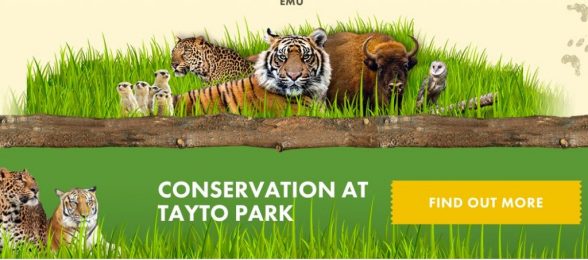 If you want a super day out in Ireland.
Head to TAYTO PARK you will not be disappointed. 
Tayto Park Prices 2017
WEBSITE: www.taytopark.ie