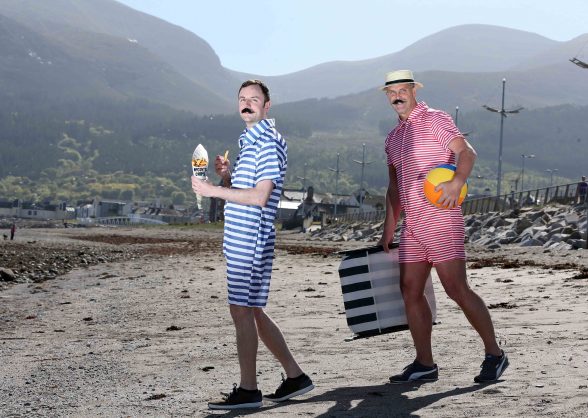 LOOKING CHIPPER: John Baxter and Ricky Watts of KP Snacks (NI) hit the seaside to enjoy some good old fashioned chips… well almost! 
The daring duo topped up their tans on the beach in Newcastle, County Down, to launch the brand new McCoy's Chips range in Northern Ireland.
The new snack from the province's best-selling ridged crisp replicates the authentic taste of the humble chippy and comes in three different flavours including Chip Shop Sea Salted, Chip Shop Salt & Vinegar and Chip Shop Curry Sauce.
Ricky Watts said of the new creation: "People have said to us that they like crisp stick snacks, but that they're often too small or full of air so disappear too quickly.
"What we have done with McCoy's Chips is created a chip snack that is much more filling and also tastes authentically of chips, while maintaining the famous McCoy's ridged crisp texture."