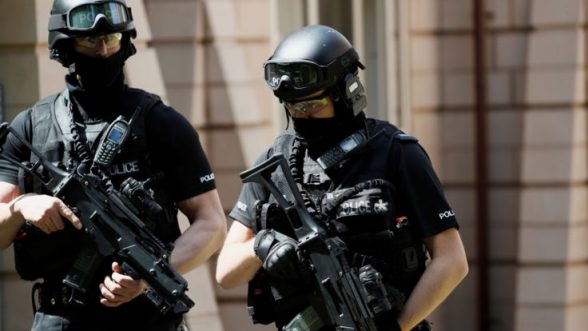 SECURITY chiefs have raised the UK terror threat level has been raised from severe to critical – the highest possible – after the Manchester Arena bombing.
Counter terror chiefs now fear another attack is imminent by ISIS 'lone wolf' suicide bombers.
Prime Minister Theresa May announced the threat level change, saying military personnel will help armed police officers guard key sites.
And members of the armed forces are now on standby to be deployed to public events such as concerts and sports events.
Twenty-two people were killed and 59 others were injured when a suicide bomber blew himself up in the arena foyer as concertgoers left after a gig by pop star Ariana Grande.
The suspect has been named by police as Salman Abedi, and investigations revealed he may not have acted alone.
She said: "It is a possibility we cannot ignore that there is a wider group of individuals linked to this attack."
Mrs May said the Joint Terrorism Analysis Centre – the independent body which sets the threat level – had recommended it be raised after the bombing.
She said: "It is now concluded on the basis of today's investigations that the threat level should be increased for the time being from severe to critical.
"This means that their assessment is not only that an attack remains highly likely but that a further attack may be imminent."
Some of those killed in the Manchester atrocity were youngsters, including eight-year-old Saffie Rose Roussos.
She was a pupil at Tarleton Community Primary School, and she had been attending the concert with her mother and her older sister.
Her headteacher, Chris Upton, said her death had come as a "tremendous shock" and he described Saffie as "simply a beautiful little girl".
Georgina Callander also died in the attack. The 18-year-old had posed for pictures with the American singer in the past, and she was studying health and social care at Runshaw College in Lancashire.
A day before the concert, she had tweeted Grande and said: "SO EXCITED TO SEE U TOMORROW."
The college said: "Our deepest sympathies, thoughts and prayers go out to all of Georgina's family, friends, and all of those affected by this loss."
John Atkinson was also killed. The 26-year-old from Bury has been described as a "beautiful soul" by loved ones.